Scentsy Warmers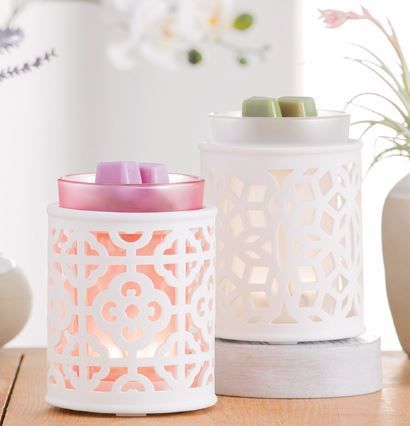 Scentsy Warmers. Shop safe and Stylish Scentsy Candle warmers. Choose from a great selection of designs. Our Scentsy Warmers are uniquely designed candle warming systems created to gently warm scented wax.
All Scentsy warmers are designed to warm scented wax from a low watt hotplate fitted inside of the warmer or warmed from a bulb in our lampshade range.
Place the top dish of the Scentsy warmer on to the hot plate, place your desired amount of Scentsy bar cubes (Highly fragranced candle wax bars) into the top dish, plug in and enjoy!
A simple, stylish and effective system designed to fragrance your space safely without the need of a wick or flame. Our warmers are designed to be warmed at low temperatures and are safe around children and pets with no fire risk from a naked flame.
Our Scentsy grade wax is industry leading with a fab scent throw in comparison to traditional scented candles, because our warmers are designed to gently warm scented wax and NOT burn, this allows our specifically created Scentsy bars to be able to hold more fragrance oil than a traditional scented candle, offering you the ultimate scented candle experience. Our specially formulated Scentsy bars do not evaporate once warmed, allowing you to use your warmer as often as desired without drying out.
We have a great range of warmers to suit any style or decor, these stunning pieces come in a range of great finishes, crackle glaze, glow,hand painted & hand painted + reactive glaze, some with illumination some without allowing you to choose a style that's right for you.
Each Scentsy Warmer comes with a Lifetime manufacturer warranty on defects!
To demonstrate the superior quality of Scentsy Warmers Scentsy Warmers are now warranted to be free from defects in material and workmanship for the lifetime of the product. Any Warmer found to be defective or damaged under normal use and care will be replaced with the same, or comparable, product at Scentsy's discretion.
View the fantastic Range Of Electric Wax Candle Warmers Available In The UK or buy Scentsy Online now in our store. We have Scentsy warmers and fragrances to suit any mood or decor. We have a great range of New Scentsy Warmers, old favourite warmers, our new lampshade range warmers, children's warmers, men's warmers, warmers you can colour yourself, warmers you can personalise, and warmers you can use to warm 3 different fragrances at once to create your own mixology with fragrances much more. You really do need to view the full range in our shop to believe the choices available. Each individual warmer is uniquely created.