Enroll to start selling Scentsy, Now is your time to enroll and join Scentsy as a new consultant! Select your Starter Kit and follow the enrollment steps.
You must be a legal resident of the country where you want to enroll.
When you enroll with Scentsy & join our team you gain 7 Days a Week Online & Personal Support To Help Grow Your Business. Start Selling Scentsy Products & Enjoy The Flexibility you gain with an amazing support network.
When you sign up and enroll you'll be part of a team, working for yourself but not by yourself, you never have to feel alone with help and support from myself and our team. Scentsy has helped so many people all over the world gain freedom they enjoy and flexibilty to earn an income around other commitments.
Get started & enroll with Scentsy today to enjoy the benefits of working from home offering amazing Scentsy fragrance products. Earn an extra income for the things you deserve as well as great consultant perks, awards & bonuses!
Sign up & enroll to become a new Scentsy Consultant
Why should I enroll and sign up to Scentsy?
New Consultants sign up & enroll to join Scentsy for all different reasons, some for the love of the products and others to gain an extra income or to work towards working Scentsy full time to gain extra flexibility and freedom to enable them to work around their children or current commitments, whatever your reason for looking to join Scentsy as a new consultant, im sure you will fall in love with the opportunty Scentsy has to offer.
If you are looking for an extra disposable income to top up your current income this could be the perfect opportunity for you. Scentsy can help you save for the things you deserve in life. An extra income and benefit you and your family in so many ways. If you already know and love Scentsy you can enroll to take advantage of the great perks Scentsy has to offer consultants.
What are Scentsy consultant perks when I enroll?
As a Scentsy consultant you have the chance to earn free and half priced items on a regular basis using host rewards when you place personal orders. You can earn rewards based on the total sales when you place an order as a party order on your workstation. It's a great way to get Scentsy products for half-price or free with earned product credits. Plus, This is a fantastic opportunity for anyone who already knows and loves Scentsy products. Gain free and half priced items as a consultant so you dont have to pay full price for your own Scentsy favourites.
In addition to earning free and half price items you also get paid on all of you sales. Get paid once monthly for placing all of your friends & family orders. Scentsy offer a great commission plan where you can earn commission on all of your sales as well as from team bonuses or monthly sales bonuses.
Did you know, Scentsy offer the opportunity for all consultants old and new to earn amazing all expenses paid trips to holiday destinations as great incentives annually. This gives all consultants the chance to focus on earning and achieving something no matter how long they have been with us. Every consultant has the same chance of working towards earning these amazing incentives, with so many amazing places & cruises offered in the past, you are sure to want to work towards these fantastic perks as a Scentsy Consultant! When you enroll and join us, you have the same great opportunity to earn these fantastic incentives too!
Learn how to advance yourself and promote when you enroll.
As a new consultant when you enroll with us you get support to work your business, if you wish to work towards advancing yourself and promoting to better pay, help is on hand to advise you how to advance and promote and get the best out of your business, of course this is optional, however with Scentsy the opportunities are endless. If you have the personal drive to want to achieve, Scentsy offers great bonuses for promotions and rank advancements to allow you to earn a greater pay packet.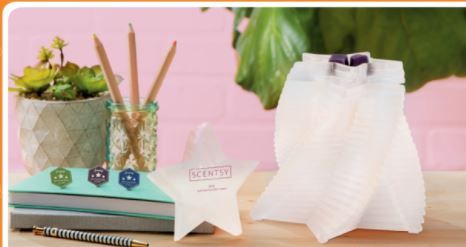 Take advantage of New Consultant Awards when you enroll with Scentsy.
Get awarded for your efforts when you enroll and join us, Scentsy offer some great new consultant awards if you wish to aim to work towards them. New consultant awards allow you to earn great awards exclusive to consultants.
With Scentsational start awards you can earn from £50.50/€59.50 product credit.up to £227.25/€267.75 in product credit to be recognised for new starter achievements. You can purchase anything you like with your product credit to treat yourself to reward your sucess.
Scentsational Start Level 1, 2 and 3 lapel pins to recognise achievements
Certificates of achievement (for levels 1, 2 and 3).
Scentsational Start Award Warmer exclusively for Scentsational Start Level 2 or 3 achievers.
Trophy of achievement.
Shooting Star awards offer Bracelets with recogniton charms or pins to get your achievements recognised. These are great to get started and build up over time for you to see just how much your are achieveing along the way.