Scentsy Candle Warmers Gallery Collection
Our Scentsy Gallery warmer range is a great warmer range to customise any room. Our £39 Scentsy Gallery range allows you to express your individuality and make a statement in any room. Our gallery warmers are approximately 11 cm wide and 15 cm tall. Create your own personal exhibit with the Gallery Collection. Each Gallery warmer has a blank, magnetised panel that glows from within when lit. Simply snap on a Gallery frame to customise your warmer and fill the room with beautiful patterns of shadows and light. Each Gallery warmer comes with your choice of free frame included in the £39 price. Individual magnetic frames can be purchased separate if you wish to create a new look. You can choose from one of our beautifully styles magnetic frames or customise your own to create a personalised touch.
How to create your own gallery warmer creations.
Our Gallery warmers are a great warmer to be the centre of visual interest in any room featuring many magnetic front frame designs that vary from cute and girly diamantes to colourful scenes. These warmers are perfect for any space where you would like a touch of Scentsy fragrance.
Our Scentsy warmers are completely different to a candle and a much safer alternative. These elegant ceramic hand crafted ornaments are fitted with a hot plate and designed to gently warm scented wax from the top dish, allowing you to fragrance your space discreetly. All of our Scentsy candle warmer systems are plug in and come in different colours and styles to suit any taste or décor. Each individual Scentsy warmer comes with a 3 year manufacturer guarantee.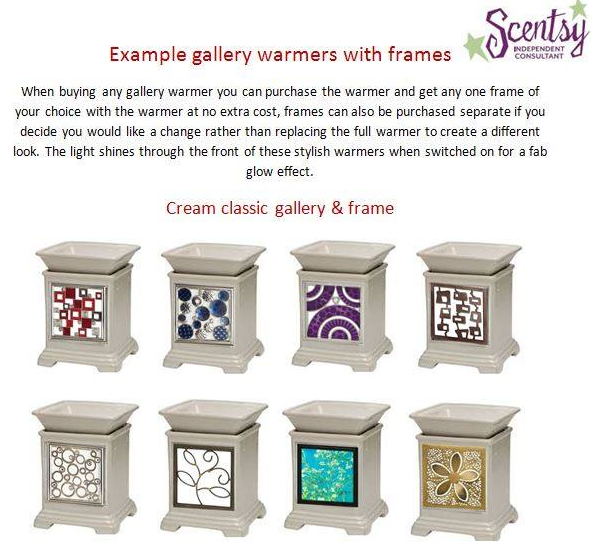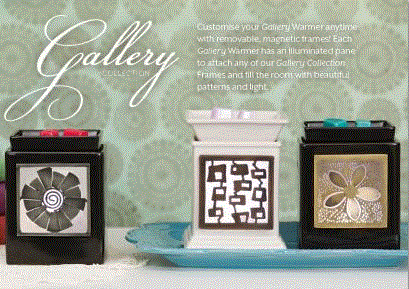 These wickfree candles warmers are truly stunning with a classy modern look with an range of magnetic front frames to choose from theres something to suit everyone.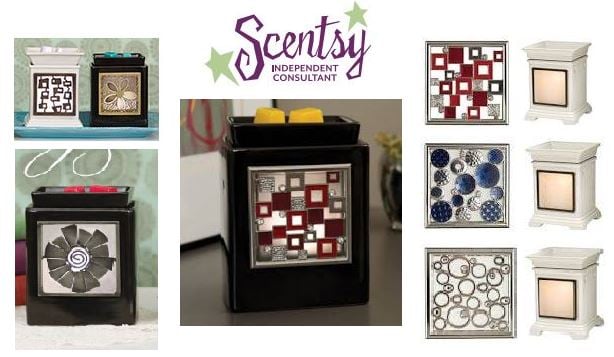 Example hotplate inside of the warmer...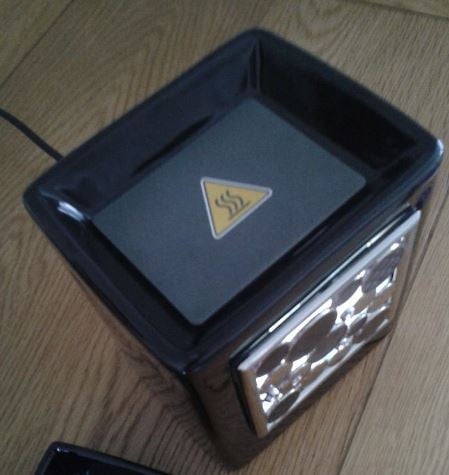 These gallery warmers offer a modern classy touch to any space. Choose your Scentsy Gallery warmer then choose a frame of your choice. Scentsy Gallery Candle Warmers - Customize warmers with magnetized frames. Choose from a large selection including Snap shot Frames where all is missing is your favourite photo or picture! Add your favorite picture and watch it glow!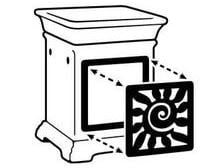 Snap your gallery frame onto the front metal frame of your gallery warmer. The magnets on the warmer will hold the frame in place. Change your frame anytime you would like to change the view.