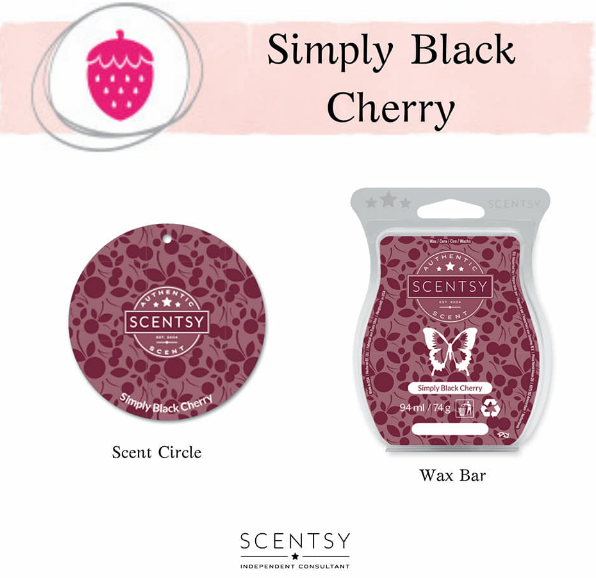 Simply Black Cherry Scentsy. This much loved fruity scent is one of our older Scentsy fragrances. Our gorgeous Simply Black Cherry fragrance has been around for years. Simply Black Cherry is available in our popular Scentsy candle wax bars & also in our scent circles. A little sweet, a little tart, the perfect bite of black cherry.
The easiest way to buy Scentsy products in the Scentsy fragrance Simply Black Cherry is to visit my Scentsy shop online use the search bar to enter 'Simply Black Cherry', all products available for purchase in that scent will come up.
Our Simply Black Cherry Scentsy Candle Bar is made of high-quality paraffin wax for long-lasting fragrance, Scentsy Bars are composed of eight break-apart cubes designed to use with any Scentsy Warmer. As the cubes melt, they fill your space with our exclusive scents, inspiring imagination and memories. Safe to use with no wick, flame, smoke or soot. Made in Idaho, USA. Net wt 2.6 oz. Each Scentsy Candle bar offers 8 cubes of luxury fragrance for you to break off and warm in your warmer to provide you with a luxury safe scented experience. If you love fruity fragrances this is a one for you!
If you love Simply Black Cherry so much, take it with you on the go with our fragranced scent circle designed for use in your car for a touch of black cherry scent. Ideal for closests and wardrobes too!
Although we only have our Simply Black Cherry fragrance in a couple of Scentsy products, you can still save by buying this fragrance in a bundle. We offer some great savings using our 3 or 6 pack Scentsy candle bar option. To earn savings by buying bars in bundles look out for the specials tab in my Scentsy shop, go to bundle and save, select 3 pack to save £1 or 6 pack to buy 5 and get one Scentsy bar free. Be sure to do this before adding fragrances to your basket to grab the savings.