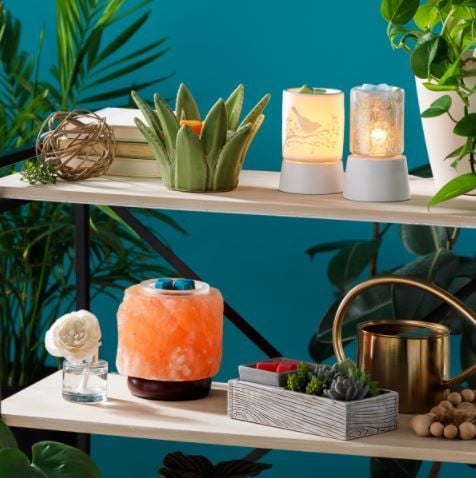 Shop all Scentsy warmers in a range of styles and designs, find flameless, plug in the wall, tabletop, scented candle warmers to and fill your home with fresh fragrance with Scentsy wax
View our New Wax Warmers, be inspired by our newest warmer designs offering a variety of home décor trends so you can find the styles that suit you.
Scentsy warmers are a safer alternative to wax burners. Enjoy new & customer favourite Scentsy warmers from my Scentsy shop, All of our Scentsy warmers are authentic, electric and designed to last from the brand you can trust.
Scentsy provide a safe alternative to a scented candle & with wick free and flameless electric wax warmers, choose from a heating element to warm your wax, a light bulb for an amazing glow effect while warming your wax or our plug direct into the wall Scentsy mini-Warmer designs at affordable prices. Our Plug into the wall Mini Warmers have become so popular due to the petite shade we have now brought the same great designs out in our Table top Warmers. Our Scentsy Table top mini warmers are the smallest of all Scentsy warmers and are the exact same size shade as our very popular plug into the wall designs offering you more choice of where you can put your warmer if you are limited for space. These also make great warmers for offices, workplaces & holiday homes.
All Scentsy Warmer are created as a safe alternative to burners made with premium materials and are designed to last., With over 100 warmer designs to explore, you're sure to find the perfect styles to enhance your space offering you a safe scent experience for just about anywhere.
We have such an amazing range of Scentsy Warmers, we offer different sizes in our Warmers so you can fit our warmers into the perfect place to enhance your space. When you shop Scentsy Warmer be sure to take a look at the individually description of the Warmer of your choice, the description will indicate if the warmer is lit from a bulb along with the wattage of the bulb the warmer uses or if the warmer is warmed buy a warming element fitted in with the design. Al descriptions of each Scentsy warmer will show the size of the warmer. (If the Scentsy Warmer states it uses a bulb, the bulb is always provided with the warmer upon purchase, so there is no need to purchase another)
Why do so many people choose Scentsy as their Wax Warmer of choice?
Scentsy offers so much more than a standard wax warmer, All Scentsy Warmers are Created by artisans around the world and handcrafted, in addition, Scentsy Warmers are a beautiful and safe way to enjoy amazing fragrance without the need of any flame, which provides you with no soot or smoke and each warmer comes with a lifetime manufacturer warranty on defects so you can purchase with confidence.
We offer so many options to choose from you are sure to fall in love with our designs, the craftmanship and the Scentsy Brand. Be inspired by Scentsy Wax Warmers & scented wax. There really is something to suit every style and décor along with a huge range of wax bar scents (also known as Scentsy bars).
Choose your style, pick your scent, switch on and enjoy the safe scented candle experience.