Scentsy Scented Natural & Essential Oils
Scentsy Natural & Essential Oils. When Scentsy say pure essential oils, we mean 100% pure essential oils. Choose from a great range of fragrances. We're market international leaders when it comes to aromatherapy products; therapeutic and high grade. Our essential oils and oil blends take you on a sensory journey that can instantly enliven both body and mind.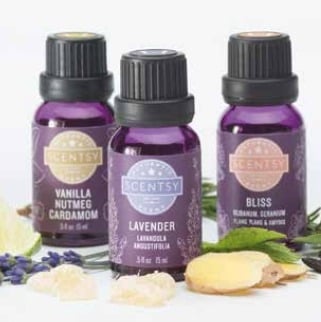 An essential oil is a concentrated hydrophobic liquid containing volatile aroma compounds from plants. Scentsy essential oils are harvested from the most fragrant botanicals in the world. Essential oils have enhanced lives for thousands of years, offering a variety of benefits including emotional, physical, and spiritual wellness that can be truly life-changing. Extracted through careful steam distillation, resin tapping, and cold pressing, the purest essential oils are far more powerful than the botanicals from which they come. Any time you hold a bottle of Scentsy essential oils, you hold nature's pure essence. Our Essential oils come in a range of great fragrances for you to enjoy.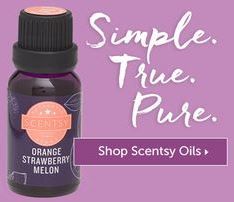 You can access the power of essential oils many ways, but the most common practices include aromatic diffusion. Our essential oils have been distinctly created to offer you an amazing experience when diffused, to bring the pure essence of the best botanicals to your home, family, and life.
During times of colds and flu, try diffusing thyme, eucalyptus or rosemary. Cinnamon and clove are excellent for prevention, and smell lovely with a bit of orange added. You can mix any essential oil fragrances as desired or choose one of our specifically created essential oil fragrances. Lemongrass, tea tree, eucalyptus, oregano and juniper are specific for air purification, and can also help to clear the air of the smell of mildew.
Mental clarity is supported by peppermint, basil, lemon or rosemary. These are great choices to diffuse while studying or working on a project.
For uplifting mood enhancement sage paired with any citrus can work wonders. For stress relief, add geranium and lavender. To promote some romance, try jasmine, ylang ylang, rose or sandalwood
A special holiday ambiance can be created by diffusing pine, spruce or fir with a bit of spice like nutmeg and cinnamon. Peppermint and spearmint create a refreshing aroma while frankincense and orange promote relaxing contemplation.
Do you love the way the fragrance from a fresh orange peel brightens your day? Each essential oils complex, pleasant, and unique scent triggers emotions and memories, which can help in your search for a more fulfilling and balanced life.
To help you rediscover peace, balance and joy try lavender, orange, peppermint or jasmine essential oils and blends for diffusion
Single essential oils can be chosen for a desired effect, or several oils can be used in the diffuser together to create a custom aroma with multiple therapeutic benefits. No matter what the desired effect may be, and with minimal effort, essential oil diffusion has endless possibilities for supporting health and wellbeing.

Discover Scentsy natural, essential and oil blends and shop your desired fragrance.
Using essential oils in a diffuser is an enjoyable and effective way to experience aromatherapy in your home. Through air diffusion, a few drops of essential oil can deliver therapeutic aromatherapy throughout one or more rooms while clearing the air and creating a pleasantly fragrant environment.
There are many different types of diffusers to choose from, however, since heat can cause essential oils to evaporate and degrade quickly, cold air diffusion is typically preferred over all heat diffusion to obtain full therapeutic effects
Because cold air Diffusers offer the best essential oil experience Scentsy created their very own ultrasonic cold mist technology oil Diffuser. Combine the best of our essential oils with our international leading home fragrance diffuser for the ultimate aroma experience.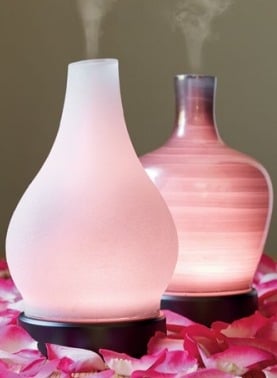 Our Scentsy Diffusers disperse essential oils as a fine cold mist technology throughout the air. The aroma can prompt the nervous system to transmit signals in the brain that houses emotion and memory. The brain may respond by initiating various physiological functions, such as a positive boost in mood or have natural calming effects.
At Scentsy we don't just offer an oil diffuser, we offer the world most advanced diffuser on the market combining light, fragrance and unique cold mist technology in a stunning vessel to offer you an amazing aroma experience.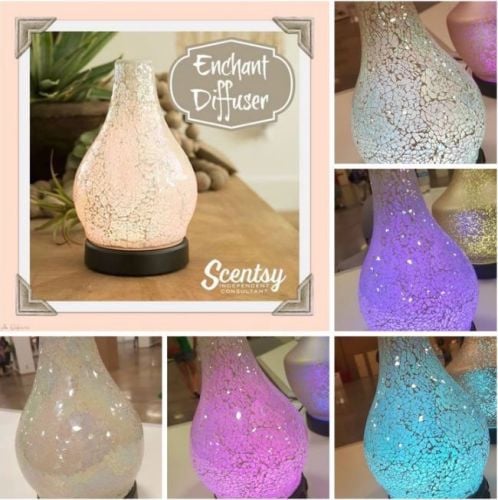 Aromatherapy (diffusing essential oils) helps to stimulate the nervous system and provides a host of health benefits including creating a stress-free environment, relieving tension, providing energy, improving mental clarity and clearing nasal passages. Diffusing essential oils disperses the oils into the air filling the room with a wonderful scent. Using essential oils for aroma is non-toxic with the added benefits of being therapeutic and healthy for you.
Discover Scentsy world class ultrasonic cold mist technology Home fragrance Diffusers. Our Scentsy diffusers offer a range of features and benefits allowing you to combine fragrance light and mist with our amazing all in one fragrance system. Our stunning diffuser shades complement any home offering a stunning focal point to your home.
EXPLORE MY WEBSITE TO FIND OUT MORE
Whether you select simple, single - note essential oils or more complex 100% natural oil or Scentsy essentials oil blends infuse your space with artisinal, natural fragrance designed for use in our Scentsy diffusers. The worlds most advanced ultrasonic nebulising diffuser. Available in a range of great fragrances. Buy your Scentsy scented natural oils here from my online Scentsy shop.

ESSENTIAL OILS
HARVESTED FROM THE MOST FRAGRANT BOTANICALS IN THE WORLD, OUR PURE ESSENTIAL OILS
DELIVER A SINGULAR FRAGRANCE. COMBINE WITH OTHER SCENTSY OILS TO CREATE A PERSONALISED
SENSORY EXPERIENCE. 15 ML EACH
ESSENTIAL OIL BLENDS
CREATED IN PARTNERSHIP WITH EXPERT CULTIVATORS AND FRAGRANCE DESIGNERS, OUR
ESSENTIAL OIL BLENDS ARE HANDCRAFTED INTO COMPLEX, AROMATIC FORMULAS THAT
CONNECT BODY, MIND AND SOUL. 15 ML EACH
100% NATURAL OILS
ARTISANAL HOME FRAGRANCES CREATED FROM BLENDS OF NATURALLY DERIVED INGREDIENTS AND
STEAM-DISTILLED ESSENTIAL OILS, GLOBALLY SOURCED FROM THE MOST FRAGRANT PLANTS AND
SPICES. 15 ML EACH

choose from an amazing range of essential oils & Scentsy Cold Mist technology oil diffusers from my online scentsy shop. Combine both for the ultimate sensory experience.