Scentsy Mothers Day Gift Bundles
Scentsy Mothers Day Gifts - Mothers Day Limitd time offers perfect for gift giving! What better way to treat that extra special mum than with a gift of Scentsy! Fill her world full of stunning Scentsy fragrances designed to create memories through fragrance. We have rangeof Scentsy gift bundles for you to treat your mum this Mothers Day.
Let us help you make this Mothers Day the best yet with oh-so-convenient, hand-picked gift bundles. Hassle free and easy to order without having to worry about picking the fragrances yourself!
You might have known Scentsy would bring out some amazing bundles for Mother's Day.
These two spa bundles come in a gift bag with a label already to go. choose from ...
Emerald Waters bundle
A collection of three Scentsy Body products — Bath Ball, Body Wash and Hand Cream. Includes a beautiful gift bag and tag — 100% ready for gift-giving. Feels like a perfect dream. Drift away on a tranquil tide of blue lotus and fresh peony.
or
Pina Colada cha cha bundle
A collection of three Scentsy Body products — Bath Ball, Body Wash and Hand Cream. Includes a beautiful gift bag and tag — 100% ready for gift-giving.
Island coconut and zesty pineapple lead, while white rum and vanilla bean follow.
£27 per set.
These great gift bundles are only available while stocks last!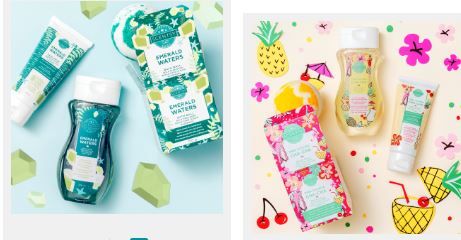 These gift bundles are ideal for mothers day or gift giving in different price ranges to suit your budget... all limited and special bundle buys are only available while supplies last for allocated amount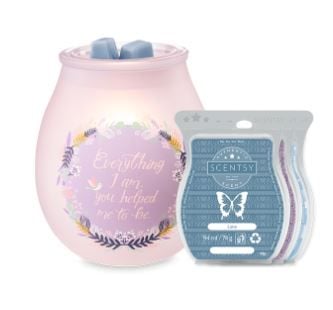 EVERYTHING I AM WARMER BUNDLE £73
A meaningful exclusive warmer bundle, this bundle features the brand-new ''Everything I Am Warmer'' — made just for Mum. Frosted, lavender glass — with a flowery spring wreath — states the simple truth: "Everything I am, you helped me to be." Includes three Scentsy Bars:
Luna: White florals — jasmine, sweet pea and freesia — juicy berries and sandalwood shimmer like moonlight.
Shimmer: Get your girly-girl on! Sweet cherries, velvety apricots and sensual white musk crowned with a tiara of shimmering spun sugar.
Clothesline: Crisp greens, orange flower, creamy violet and even a hint of white wicker basket will let you savour the scent of just-washed laundry.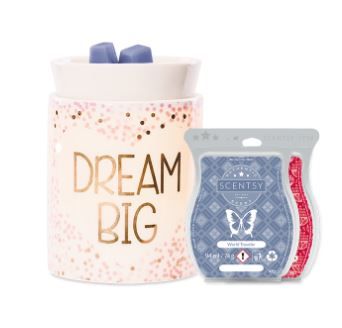 DREAM SPARKLE WARMER BUNDLE (BUY THE WARMER & GET THE BARS FREE) £42
The Dream Sparkle Warmer Bundle is perfect for Mum's favourite hideaway. This dynamic shout-out warmer comes dressed up with a hint of shimmer and shine, plus two Scentsy bars:
World Traveler: Blackberry, dark pomegranate and oak bark inspire adventure.
Berry Fairy Tale: Sweet dreams are made of pineapple slices, star apple and raspberry.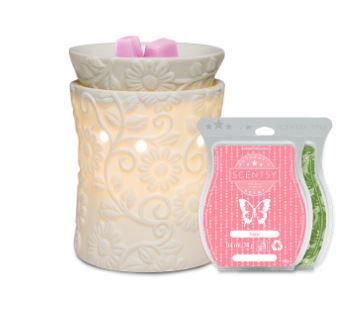 FLOWER VINE WARMER BUNDLE (BUY THE WARMER & GET THE BARS FREE) £36
Your Mum is sure to love the Flower Vine Warmer Bundle. Happy spring flowers and curling tendrils dance in glowing white porcelain. Comes with two Scentsy Bars:
Sugar: Fruity blend of lemon drops and cotton candy.
Sea Salt & Avocado: You do you, while pink sea salt, Valencia orange and creamy avocado keep your spirit in flight.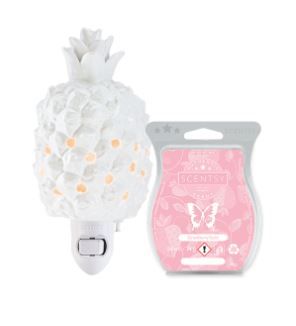 QUEEN PINEAPPLE MINI BUNDLE (BUY THE MINI WARMER & GET THE BAR FREE) £24.00
Treat your Mum like royalty! Our trendy, white Queen Pineapple Mini Warmer will steal the show in any setting.
Includes the blissfully sweet Strawberry Swirl Scentsy Bar, featuring frozen strawberries whipped with frothy milk and vanilla.

Love what you see? Don't wait! Scentsy Mothers Day bundles are only available while supplies last. This promotion is available in My Scentsy Shop Online
Scentsy offers an alternative to scented candles with Scentsy's flame-free wickless candle warmers and scented wax bars there is no wick, no flame, no soot and no fire risk! Scentsy decorative ceramic candle warmers along with our amazing scented wax bars give the ultimate scented wax experience. Our gorgeous Scentsy Candle Warmer Systems are safer, stronger and our bars are longer lasting than traditional candles. Our Scentsy warmers come in a huge range of styles to suit any taste or decor along with over 80 stunning fragrances your mother will love! Shop Scentsy wick free warmers & scented candle wax bars now!
Does your mum love all types of scented products? Scentsy also offer limited Collectible Scented Teddies (Scentsy Buddies) for anywhere you would like a touch of fragrance, scent paks, car bars and other great scentsy scented gifts. Check out my Scentsy website to shop online or view the great range we offer.