Scentsy Diffuser FAQ
Scentsy Diffuser - Scentsy Oil Diffuser - World Class LED Colour Changing Scentsy Oil Diffuser - Our Scentsy Oil Diffuser is a Diffuser like no other. An amazing hand crafted vessel using cold mist technology to diffuse your favourite home fragrance oil safely throughout your home. Are you wondering how to get your hands on one of our amazing ultrasonic LED lighting oil diffuser? You can buy yours online here. Our Scentsy Oil Diffusers are our most sought after product this season.
Our world class Scentsy Oil Diffuser is our most personal fragrance experience yet. Simply add water and your favourite Scentsy Oil or any other home fragrance oil to the reservoir choose your light and mist option and enjoy. The Scentsy Diffuser releases your perfect fragrance, carried in a microscopic mist, for an exclusively natural, full-bodied, immediate experience precisely matched to your personal preferences. Features and Benefits: The world's most advanced ultrasonic nebulizing diffuser Lifetime warranty 16 LED light options The only diffuser offering interchangeable decorative shades to complement any décor Delivers a consistent fragrance experience Customize your fragrance experience by adding more or less oil Cold-mist technology allows you to enjoy Scentsy fragrance instantly without waiting For use with our new Scentsy Oils! A beautiful way to infuse your space with artisanal, natural fragrance. Essential Oils, Essential Oil Blends, and 100% Natural Oils offered.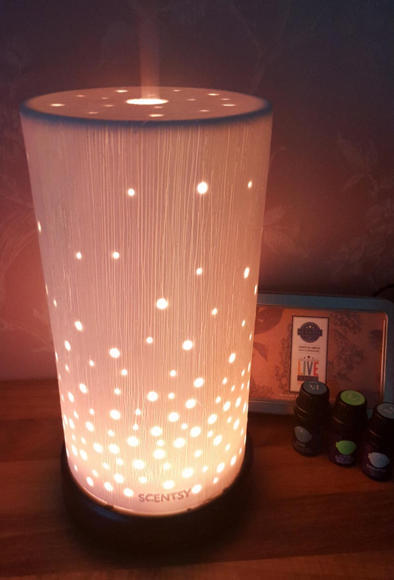 If you don't wish to use your Scentsy diffuser to diffuse oil throughout your home, you have the option to use your Scentsy diffuser as a LED lighting lamp with 15 different settings without having to use the diffusing cold mist technology function.
Shop your Scentsy Oil Diffuser Today. Once you have purchased your Scentsy Oil Diffuser remember to register your diffuser at Scentsydiffuser.com to validate your Lifetime warranty. All instructions on how to validate your lifetime warranty will arrive with your Scentsy Oil Diffuser.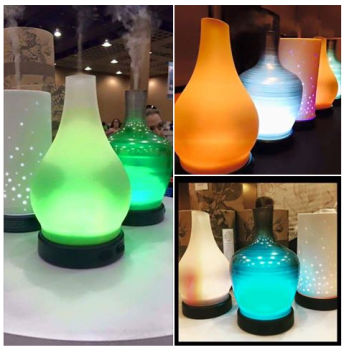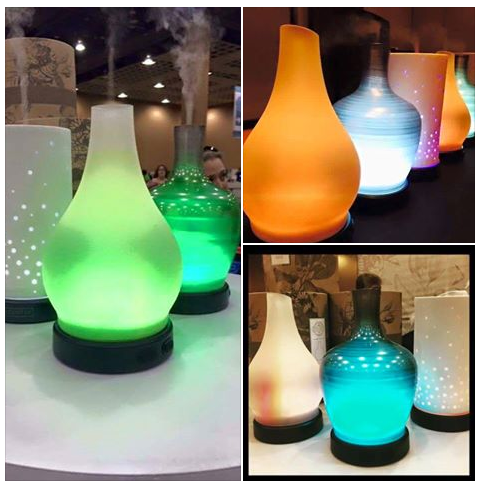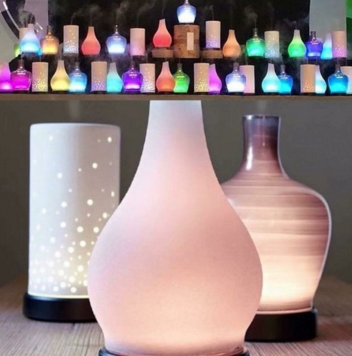 Scentsy Diffuser FAQ's
How does it work?
The Scentsy Diffuser is an ultrasonic nebulising diffuser. Essentially, a small ceramic disk in the water reservoir – called a nebuliser – vibrates at high frequencies to break the water and oil down into fine microscopic particles that are dispersed into the air.
Does it get hot? No. The Scentsy Diffuser uses cold-mist technology to disperse fragrance. It contains no heating element.
Does the Scentsy Diffuser come with any diffuser oils? No; all diffuser oils must be purchased separately.
How much oil and water should I use? Add water to the reservoir fill line (about 120 mL). We recommend starting with 4-5 drops of oil to start and adding more or less to suit your personal preferences and the size of your space.
Can I use other company's oils with it? Yes. Though Scentsy Oils have been specifically formulated for an optimal fragrance experience, using other companies' oils will not harm the Scentsy Diffuser or void the warranty.
Should I use distilled water? The Scentsy Diffuser is the most advanced diffuser on the market; you do not need to use distilled water. We recommend using clean, cool tap water. However, customers with hard water or customers who live in areas with high mineral concentration in their water supply may choose to use distilled water to prevent scaling.
Is the Scentsy Diffuser protected by a warranty? Yes. Scentsy diffusers are warranted to be free from defects in material and workmanship for the lifetime of the product. Any diffuser found to be defective or damaged under normal use and care will be replaced with the same, or comparable, product at Scentsy's discretion. We encourage you and your customers to compare our warranty with other diffusers; you'll find ours is the most generous warranty on the market.
Why should my customers choose the Scentsy Diffuser? The Scentsy Diffuser uses the world's most advanced ultrasonic nebuliser to disperse fragrance. Scentsy offers a limited lifetime warranty. Additionally, the Scentsy Diffuser offers 16 LED light options and is the only diffuser on the market to offer interchangeable decorative shades to complement any décor. We encourage you and your customers to compare the Scentsy Diffuser with other diffusers; we're confident you'll find Scentsy offers the most features, the most advanced technology and the most attractive diffusers on the market.
How long does it take to work? You'll notice fragrance almost instantly when you use the Scentsy Diffuser. This also allows you to easily change out the water and oil for a completely different fragrance experience as often as you wish.
What are the benefits of using a Scentsy Diffuser? There are many benefits to using a Scentsy Diffuser. First, because the diffuser uses cold-mist technology, the fragrance character remains consistent throughout the fragrance experience. Second, the diffuser offers high, low and intermittent diffuser modes, giving you more control over the intensity and longevity of your fragrance experience. Third, the diffuser offers 16 different light modes, allowing you to change your lighting to complement your décor or mood. Fourth, you can customise your fragrance experience by adding more or less oil, or combining oils.
Does the Scentsy Diffuser system have advantages over Scentsy warmers and wax? Both systems deliver exceptional fragrance experiences and some customers may prefer one system over the other. Because they are such different experiences, we encourage you to highlight the benefits of Scentsy's diffusers and warmers over competing products rather than compare our systems to each other.
What are the different light options? The Scentsy Diffuser features 16 elegant light options to suit your mood. There are two light modes, white and colour. The white mode features high, low and candle-flicker options. The colour mode features a continuous cycle of 12 colours (fuchsia, red, orange, yellow, lime, green, aquamarine, white, azure, blue, lavender, and purple), or hold the light button for 1.5 seconds and set the diffuser on one colour to complement your mood, décor or oil. The Scentsy Diffuser may also be used with no light.
What if it runs out of water? The diffuser will automatically shut off when it runs out of water.
How long can I leave the Scentsy Diffuser on? The Scentsy Diffuser is designed to run for 4 to 8 hours depending on the density of oils and what setting is used.
Is the Scentsy Diffuser eligible for Host Rewards? Yes. Hosts may apply earned Host Credit to the Scentsy Diffuser. The Scentsy Diffuser requires two half-price Host Rewards.
Can I use the Perpetual Party Reward toward the purchase of a Scentsy Diffuser? No. Only Host Rewards earned from a qualifying party can be applied toward the purchase of a Scentsy Diffuser.
Will there be Combine and Save options available with the Scentsy Diffuser? No.
How much area will the Scentsy Diffuser cover? Many factors affect the fragrance experience, such as the size of the room, humidity, air flow and the amount of oil used. The Scentsy Diffuser allows you to customise your fragrance experience for your personal preference and room size, so we encourage you to experiment.
Will the Scentsy Diffuser replace my humidifier? Though the Scentsy Diffuser will add some humidity to the room, it was not designed to replace a humidifier.
Can you replace the LED light? No. A failure of the LED light would be classified as a manufacturer's defect. Replacement would be covered by the lifetime warranty.
Who pays for the warranty shipping? To redeem the warranty, the consumer is responsible for paying shipping costs. For more details on the Scentsy Diffuser warranty, visit scentsydiffuser.com.
Is the product safe? The Scentsy Diffuser is flameless and meets all standard electrical requirements.
Should I use warm or cold water? We recommend using clean, cold tap water.
Does the product emit any noise? Yes. The Scentsy Diffuser emits a soft noise. Most users cannot hear it unless they are sitting directly next to it.
Does the product have timer options? The Scentsy Diffuser's intermittent mode emits mist on the high setting for 30 seconds, turns off for 30 seconds and repeats. The other mist options must be controlled manually.
Will humidity affect the Scentsy Diffuser's performance? While humidity will not affect how the Scentsy Diffuser works, you may notice the scent throw is not as strong in highly humid environments. Use more fragrance oil in high humidity to maintain fragrance strength.
Does the diffuser need to be cleaned on a regular basis? We recommend cleaning your diffuser after eight hours of use for optimal performance. Use a cotton swab to gently clean the bottom of the water reservoir, then rinse the reservoir with clean water.
Will oils clog the product? No. the Scentsy Diffuser is designed to efficiently diffuse oils of all viscosities when used as directed. Never use undiluted oils in the Scentsy Diffuser. Always add clean, cold water to the fill line before adding oils, and clean your diffuser as directed to ensure trouble-free enjoyment.
Are there replacement parts for the product that can be purchased? Though Scentsy Diffuser Shades may not be purchased separately at launch, replacement shades may be obtained by contacting Consultant Support. The Teardrop Pedestal is protected from any manufacturer's defects by our exclusive lifetime warranty.
Is the product safe to use during pregnancy? Diffusers are generally regarded as safe during pregnancy. However, we recommend consulting with your health care provider if you have any concerns, allergies or chemical sensitivities.
Will citrus oils corrode any components of the diffuser? No. The Scentsy Diffuser water reservoir is made of a proprietary plastic that won't corrode, with even the most acidic oils. Some diffusers are not intended to be used with citrus oils.
What are the product dimensions? The Teardrop Pedestal is 9.69 inches (246 mm) tall, including the base; the base is 5.16 inches (131 mm) in diameter. The Instill shade is 8.82 inches (224 mm) tall and 5.63 inches (143 mm) in diameter at its widest. The Evolve shade is 8.7 inches (221 mm) tall and 6.23 inches (160 mm) in diameter at its widest. The Aspire shade is 8.39 inches (213 mm) tall and 4.25 inches (108 mm) in diameter at its widest.
Is the product Bisphenol A (BPA) free? Yes. What should I do if someone ingests the oil and water? Diluted oils pose little health risk. However, as oils and their effects vary, we recommend contacting your local poison control centre if oil is ingested, following their instructions and carefully monitoring the individual ingesting the oils.