Scentsy Replacements
Scentsy have many accessories to go with your Scentsy products ranging from warmer stands to simple must have replacement accessories such as Scentsy Warmer electric cords, top dishes and replacement Scentsy diffuser shades.
Elevate your Scentsy warmer to add visual impact to your warmer display using one of these lush warmer stands, whether you want round, square, wood, bronze or silver these warmer stands will give an extra added touch to your scentsy warmer display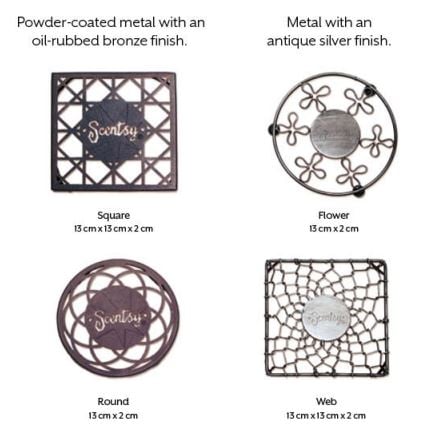 Have you always wondered what you would do if you accidently dropped the top dish of your scentsy warmer? All Scentsy warmers come with a 3 year manufacturers guarantee however accidental damage is not covered in your warranty. Sometimes accidents happen and we can't always afford to replace a full scentsy warmer for a new one. Good news! Now you don't have to, you can simply purchase a top dish of you warmer at a fraction of the price!

If you need a replacement warmer cord for any reason, these can also be purchased separately, remember when ordering your replacement scentsy warmer cord to select either 3 pin cord or 2 pin cord depending on where you live! We also now offer the plug in warmer base as a replacement, so you are sure to find a replacement part you need.


Whether you are looking to buy a replacement part for your scentsy warmer display or make it personal with some of our fabulous finishing touches.
We now have Scentsy warmer stands allowing you to stylishly showcase your Scentsy candle Warmer while keeping any unused portion of the cord hidden. Add a modern and stylish touch to your Scentsy warmer display. Available while stocks last.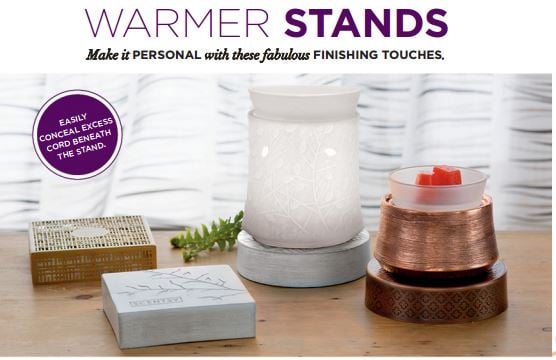 Our modern Scentsy warmer stands are ideal for hiding a portion of the cord from your Scentsy warmer and are available in four chic designs. Choose from Bronze or silver and square or circle designs to add that perfect finishing touch.

In addition to our cord concealing warmer stands we also have stands in several metal designs including antique finishes, bronze finishes and powder coated metal finishes. You are sure to find a great design to fit in with your décor and style. Other Scentsy accessories available please visit my Scentsy shop to view other products.
To view all available Scentsy stands please visit my online scentsy shop, type in the word 'stand' in the search bar to bring up all stands available to purchase.
As soon as a stand becomes unavailable it will be automatically taken from my shop product listings. All products shown are currently available.

In addition to our Scentsy warmer replacements and accessories, we also have replacement Scentsy Diffuser shades. You can now buy a Scentsy diffuser shade alone instead of having to buy the full diffuser system. This is an ideal option for those who would love a change or have had an accident with their current shade.
(The Scentsy diffuser warranty does not cover accidental damage)
Visit my Scentsy shop to find out what Scentsy shades are available.