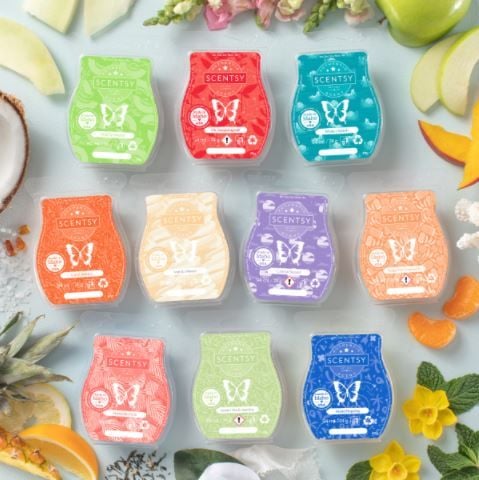 Scentsy Wax Melts are a great way to enjoy safe fragrance, add our Scentsy Wax melts to your warmer to enjoy gorgeous fragrance that unfolds over time, our wax melts are long lasting and highly fragranced.
Our authentic Scentsy wax melts are packaged in an attractive hard plastic container known as a clamshell, these are perfect for storing your Scentsy wax melts flat or hanging them up to display, the clamshell is designed to give you 8 melts from one bar which can be easily snapped off to give you your individual wax melt. Each clamshell offers 8 melts of authentic Scentsy fragrance packed into one clamshell bar, this clamshell of wax melt is known as a Scentsy bar.
You will fall in love with the amount of selection we have in our Scentsy wax melts, there are so many scents to choose from. Our wax melts come in a huge range of scent types ranging from fresh, fruity, floral to sweet scents, men's fragrances and much more too.
If you Love a certain scent ingredient you can also type into the search bar of my Scentsy Shop to search for wax melts containing the ingredient you love in a scent. All wax bar containing what you search for will show up in the search to allow you pick from the type of scents you love.
Some of our Scentsy wax melts are inspired by our licensing partners to combine the best of our licensing products with loved scents & fragrances of Scentsy. These wax melts are called licensed Scentsy Bars. You can choose from usual Scentsy Wax Melts (Scentsy Bars) or Licensed Scentsy Wax melts (Licensed Scentsy Bars) We offer a great range of Scents in all bar types.
When you Shop Scentsy wax melts you can shop with confidence knowing you are receiving the very best scents and the best of Scentsy fragrance in one bar with all of our wax melts. We use a custom, high-quality paraffin wax blend and fragrance oils, both synthetic and naturally derived, to make the best, longest-lasting bar for you to enjoy melting. Scentsy wax melts are made in Scentsy's state-of-the-art manufacturing facilities in Meridian, Idaho, USA.
When you view and shop our range of amazing Scentsy wax melts you can be assured your buying great scent which uses no wick or flame, providing you with a safe scent experience for your home of office to safely scent your space. All of our Scentsy wax melts are 100% authentic products from my official Scentsy Shop online created by Scentsy. I pay for the website from Scentsy to distribute these great authentic products as a consultant.
Here's how our Scentsy Wax Melts are designed to be used, because our Scentsy wax Melts are highly fragrant they are designed to be warmed rather than burned, when gently warmed the fragrant wax then releases fragrance into the air. The reason our wax melts are designed to be warmed rather than burned is because this allows the wax to hold more fragrance oil than a traditional candle. All Scentsy Wax Melts are designed to be warmed in electric warmers rather than burned using any type of flame. Because there is no wick & no flame used, there is no smoke or soot. Scentsy Wax melts (Scentsy Bars) are a safer alternative to traditional candles and smell fantastic warmed in any space.
Enhance your space by warming our Scentsy Wax melts in our handcrafted Scentsy wax warmers for a great scent experience. Enjoy the luxury of our personalized alternative to traditional scented candles and peace of mind knowing you have a great safer alternative along with so many choices to choose from.
Our Scentsy wax melts and warmers are great for the home & office to scent your space but also make great gifts and loved my so many Scentsy fans all over the world.