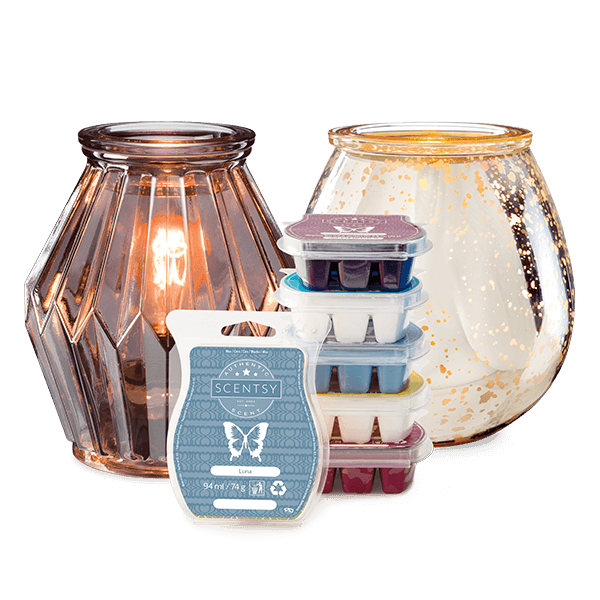 Enjoy great Scentsy savings with cost saving bundles on a huge range of Scentsy products. Why pay full price when you can Shop Scentsy for less, choose from a variety of cost-saving bundles offering you great discounts.
Join hundreds of customers saving money on Scentsy products with cost saving bundles. Save on Scentsy bars, Scentsy warmer & wax bar bundles, get great savings on laundry products or body care and much more. Our Scentsy bundles have now been updated to include Scentsy fragrance flowers added as a bundle to save you money on buying single price items.
When you choose to shop using our saving bundles, you will never want to pay full price on single items again, you get more for your money when you stock up and buy using our Scentsy saving bundles.
Our Scentsy saving bundles also include car bars, scent circles, licensed products and pet products.
Here is some examples of the great offers we have by using our Scentsy saving bundles,
If you purchased two Scentsy warmers both costing £55 and 6 Scentsy bars at single bar prices costing £7.25 per bar your total cost for single retail products would be £153.50, but if you buy all of these together using our Scentsy savings bundle, you would save £12 just on this bundle alone. This example bundle is called 'perfect Scentsy £55 Warmer' bundle.
Some more great examples of Scentsy Savings are our much-loved Scentsy wax bars. Each bar at single item price would be £7.25, when you use our Scentsy savings p ack bar bundle you can pay for 5 bars and get on free.
These are great savings on Scentsy products when you wish to buy more than one product. Don't miss out on free products and money off savings when you can buy in bundles & save.