Scentsy Fragrance Flowers.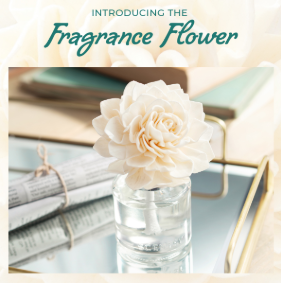 Scentsy Fragrance Flower. Our Scentsy oil reed fragrance flowers make the perfect gift. Discover Scentsy's new beautifully hand-crafted sola wood fragrance flower. This fragrance system gently lifts the aroma of essential oils into the air. Our stunning new way to experience Scentsy fragrance. Our Scentsy fragrance flowers come in a great range of top selling fragrances - Inclduing Luna, Aloe water and cucumber & Amazon Rain. More fragrances are now being release due to the popular demand. Check out my Scentsy shop online to see what is avalable and what is sold out.
Our elegant new Fragrance Flower releases beautiful scent while looking lovely in any space. Just set it out and enjoy — no plug, no problem.
Each flower is handcrafted of natural material, so no two are exactly alike! These stunning flowers absorb and holds fragrance oil for gorgeous scent that lasts up to 60 days. A Simple, elegant design complements any décor with no socket required.
Perfect for bedsides, desks, dressing tables and other small spaces.
Includes everything you need: flower, glass jar filled with fragrance oil and a decorative cap. Look out for new flower petal designs in our Scentsy fragrance flowers.
All fragrance flowers are 18 cm tall