Shop Authentic Scentsy Diffusers
Buy your Scentsy diffuser today. Shop online choosing from a great range of stunning Scentsy diffuser designs and shades. Unique and elegant, Scentsy aromatherapy oil diffusers change colour and are the perfect decorative piece to have in your home.
Wick Free Scented Candles now offer amazing authentic Scentsy diffusers. All Scentsy diffusers have 16 led lighting options and mist settings allowing you to choose your fragrance strength and lighting to match your mood. Scentsy diffusers are our most personal fragrance experience yet, providing a multi-sensory experience using light and mist. These stunning diffusers have become one of our most popular Scentsy fragrance products. Our Scentsy fans are going crazy for these world class ultrasonic diffusers. We are now allowing our Scentsy fans to buy any diffuser shade alone instead of having to purchase the whole Scentsy diffuser system again. When you buy a Scentsy diffuser and would like a change simply replace your existing shade with a new shade of your choice for a whole new look.
**If you would like a change of diffuser shade look in my Scentsy shop for diffuser shades under the diffuser tab.
Once you purchase one of our Scentsy diffusers every diffuser comes with a lifetime warranty.
*To claim your lifetime warranty you must register your Scentsy diffuser.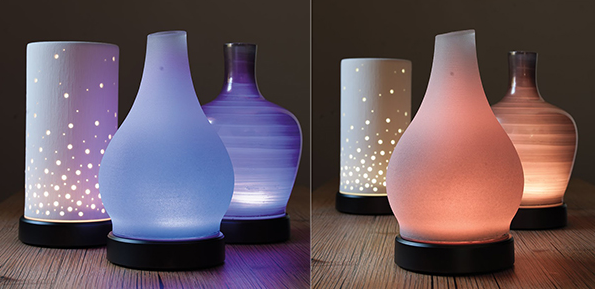 The Scentsy Diffuser: Our most personalised fragrance system yet.
The Scentsy Diffuser is the smartest, most stylish diffuser on the market. Not only does it make a stunning visual impact, but it's also designed to last. Enjoy a completely personalised experience, from your perfect Scentsy Oil fragrance and its intensity, to mesmerising colour, light and mist settings. Redefine your style by swapping out a handcrafted, decorative Shade.

Features & BENEFITS:
• Provides a MULTISENSORY experience with style, light and fragrance.
• Large water reservoir for up to 8 HOURS of continuous use.
• Three MISTING OPTIONS (high, low, intermittent) to control fragrance intensity.
• 16 LED LIGHTING EFFECTS in a spectrum of colours.
• QUIETLY diffuses a fragrant mist into the air. • Available in a variety of MODERN DESIGNS, including kid-friendly styles.
• INSTANTLY fills your space with all-natural, mood-enhancing fragrance.
• Great option for families or anyone who wants an ALL-NATURAL experience.