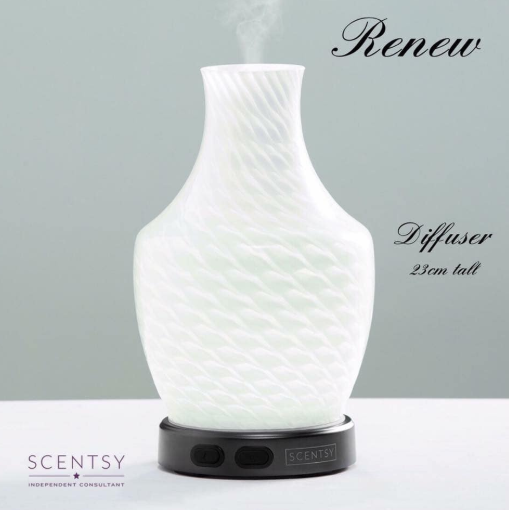 Our Renew Scentsy Diffuser is stunning! Crafted by twisting and turning layers of glass to create a complex pattern, Renew takes the art of fragrance to new heights. Renew is 23 cm tall.SHADE + BASE £158†/€190† SHADE ONLY £61/€73
Immediate, all-natural fragrance and state-of-the-art design create a magical, multisensory experience that's customisable.Ultrasonic technology offers multiple settings
to diffuse fragrance at your pace. Sit back and relax with the Renew Scentsy Diffuser. A beautiful addition to any home.
Press the light button again to advance to the next colour or set the diffuser to a specific colour. Choose our diffusermode. Press the droplet button once for high (4 hours), twice for low (8 hours) and three times to turn it off. Hold the droplet button for 1.5 seconds from the off position for intermittent mode.
Offering 16 led lighting settings our diffusers are designed like no other to provide you with fragrance, mist and light, A must have ultrasonic techonology product. The worlds most advanced diffuser on the market.