Olaf Scentsy Buddy as part of our Disney Collection. Did someone mention Disney? Yes! We did! Scentsy now offer an amazing range of Disney scented gifts for children. These great licensed gifts are available throughout the year, however to offer you a little bit more excitment to the Christmas period, we have now re-introduced our very popular Olaf Scentsy buddy as part of our Scentsy Christmas collection! This Scentsy buddy was hugely popular when it was last offered, therefore we decided to produce more to offer our Scentsy fans who love our Disney collection, the chance to grab him while he is available. I can't stress enough how limited these are, if you do wish to buy an Olaf Scentsy Buddy, please grab him while he is available to avoid disappointment!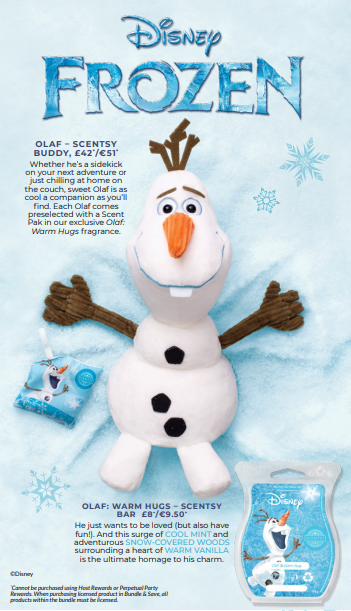 Whether he's a sidekick on your next adventure or just chilling at home on the sofa, our sweet Olaf Scentsy Buddy is as cool a companion as you'll find. Each Olaf comes preselected with a Scent Pak in our exclusive Olaf Warm Hugs fragrance.
Our Warm hugs Olaf Scentsy fragrance is also available to buy in our much loved Scentsy bar for added charm.
He just wants to be loved (but also have fun!). And this surge of COOL MINT and adventurous SNOW-COVERED WOODS surrounding a heart of WARM VANILLA is the ultimate homage to his charm which makes our Olaf Scentsy buddy and Scentsy fragrance so unique.