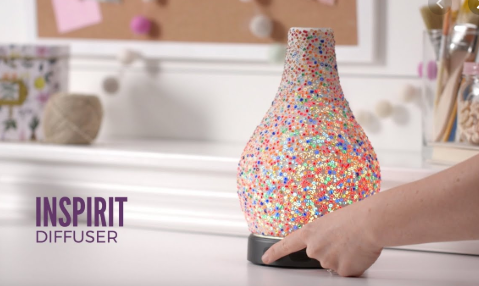 Inspirit Scentsy Diffuser. Tiny, multicoloured glass beads create a kaleidoscope effect as the diffuser cycles through the lighting effects for a truly mesmerising display.
Make a statement with striking diffuser designs and all-natural fragrance delivered instantly in a swirl of color and light.
When switched on, our diffusers immediately fill your space with stunning, artisanal scent. Set the mood with 16 dazzling colorful LED lighting effects with the option of Interchangeable diffuser shades, so you can swap them out whenever you please. All Scensty diffusers come with a Limited lifetime warranty.
The Scentsy Diffuser is an ultrasonic nebulizing diffuser. Essentially, a small ceramic disk in the water reservoir – called a nebulizer – vibrates at high frequencies to break the water and oil down into fine microscopic particles that are dispersed into the air providing you with mist, fragrance and light, an amazing edition to any home. Our world class Scentsy Diffusers are designed like no other.