Halloween Scentsy
Scentsy halloween.. Scentsy themed halloween candle warmers. A must have spooky collection! Whether you are looking for a halloween themed warmer to decorate your home or looking for a scentsy halloween gift we have something for everyone. We now have New Scentsy wickfree candle warmers children can colour and create themself to add that extra special personal touch to their warmer. Another amazing creation exclusive from Scentsy in our halloween range! View the full official Online Scentsy halloween brochure or shop Scentsy halloween products and fragrances today.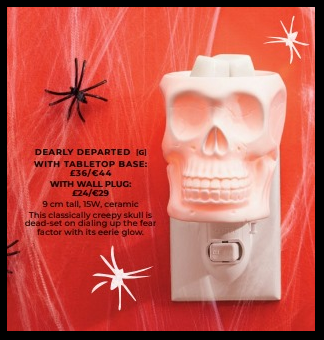 The Scentsy Halloween Collection includes safe scentsy wickfree scented candle warmers & sometimes scented teddies also known as scentsy buddies for Halloween or for childrens rooms throughout the year, if you love these wick free ceramic halloween warmers make sure you get your favorite Scentsy halloween Warmer today! These warmers are available at halloween or while supplies last, however, if your lucky once halloween is over they may go into the sale section of my website to buy, this section is called the specials 'closeout' section, here you will find discounted products including warmers not only halloween warmers but other warmers that are still left in stock which are currently not in the new or current brochure, in this section you can also scentsy bars at discounted prices, accessories and buddies. These items are only available while stocks last, if theres any in this section grab them while you can because these warmers dont stay around long!
Children love the themed halloween and christmas warmers, not only is there a huge range of themed warmers, there is also safe scented wickfree candle warmers to suit any room or decor! Each Scentsy candle warmer comes with a lifetime manufacturers guarantee, a fantastic safe secnted wickfree gift that guaranteeed to last. Scentsys amazing safe wickfree scentsy warmers are safe around children and pets, with no wick, no flame, no soot, no smoke, you can enjoy over 80 lovely fragranced candle wax scents without the fire risk.
Scentsy Candle Warmers are specifically designed to gently warm & melt Authentic Scentsy fragrance wax bars into an impressive wax pool that throws the maximum amount of fragrance. Your Scentsy warmer will fill your home with a wonderful, inviting fragrance and give you peace of mind, knowing that you are not creating a danger or hazard. Browse our entire collection of artfully designed warmers, evocative fragrances, and easy-to-use products in my online Scentsy shop or buy online and have your Scentsy products sent direct to your home.

Search for halloween products under specials in my Scentsy shop