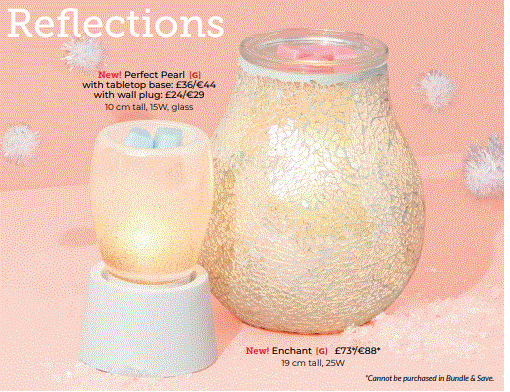 Enchant Scentsy Warmer offers you a Wick Free Scented Candle experience without the need of a wick or flame. This electric Enchant Scentsy Warmer is the same great crackled finish design as our very popular Enchant Scentsy Diffuser and has been hugely requested with Scentsy customers.
The crackled design on this warmer is simply stunning. This Scentsy warmer is lit using a 25 watt light inside of the warmer to provide you with a crackled light effect as well as a candle wax warming system.
Customers were so in love with the crackled effect on the enchant diffuser, Scentsy decided to offer the same great effect in our Scentsy warmer without the price tag allowing you to warm wax in the same great crackled design.
If you already own a Scentsy Enchant Diffuser you may wish to add this stunning Enchant Scentsy Warmer to your collection as a matching piece to complete your decor.
Enchant Scentsy Warmer is 19cm tall and comes with the clear dish to place your wax in the top to warm and melt. This design can fit into any decor and loved by so many Scentsy customers around the globe.