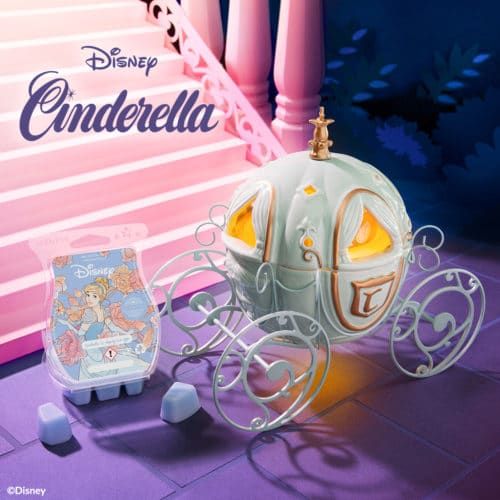 A dream is a wish your heart makes" and if you were wishing to add some fragrant Disney magic to your home, Scentsy is about to make that dream a reality. A Cinderella Carriage Scentsy Warmer will be re-released on 14th February between 6:30pm-7.30pm (GMT- UK time) to add a touch of Disney magic to your home. This electric light up wax warming system is truly stunning! This warmer will only be available while limited supplies last.
Just like in the film, the pumpkin carriage features intricate metal wheels that look like the vines the Fairy Godmother used to make them. The warmer is perched on top of the wheels and uses an LED light to provide a magical glow. The glass wax tray is reminiscent of Cinderella's glass slippers and includes details like the clock striking midnight and a silhouette of Prince Charming kissing CInderella's hand. The top of the coach acts as a lid.
Because of the intricate details, this Scentsy Warmer has a much higher price tag than your typical warmer. For £115, you can bring home the magic of Cinderella's trip to the ball where she met her prince and started her happily ever after. Scentsy is also re-releasing their "Cinderella: Happily Ever After" wax bars from the Princess Collection, which can be added to your order for £8
As Disney celebrates the 70th anniversary of the original Cinderella film, we'll be introducing the Cinderella Carriage – Scentsy Warmer.
Just check out these incredible details:
The ceramic carriage is perched on top of an intricate metal-wire wheelbase.
Golden LED lights shine inside and under the carriage for a magical glow.
A beautifully detailed dish is displayed through the open windows of the carriage.
The Cinderella Carriage – Scentsy Warmer is £115. And we're bringing the Cinderella: Happily Ever After – Scentsy Bar* (£8) out of the vault while supplies last to go with it!
But hurry! These fairy tale products are available only while supplies last, so be sure to place your orders for the Cinderella Carriage – Scentsy Warmer before it turns back into a pumpkin!
Shop Cinderella Carriage Scentsy Warmer returning 14th february 2022!