Customer Loyalty - Shop Scentsy Online For More Great Savings & Offers

Shop your favourite Scentsy products online for more great offers and savings. Generous Customer Loyalty Program for repeat customers. Earn rewards when you subscribe! Subscriptions through the Customer Loyalty Program let you enjoy the convenience of always having your favourite products on hand, while also earning customer rewards points that can be redeemed for half-price items! You can now select to have your Scentsy products auto shipped providing you with peace of mind of never running out of your favourite products. Earn rewards for simply shopping as you normally would, but instead of the hassle have your products shipped automatically, you choose the products, the frequency and the payment date. Reward yourself for being a loyal Scentsy customer. Earn half priced items. Another great reason to shop Scentsy online.

Select Products
Shop for your favourite Scentsy Bars and Scent Paks.
Set Your Shipment Frequency
You can choose to receive each of you subscription items once a month, or one every three months.
Enjoy the Benefits!
Relax with your favourite Scentsy products - and have fun redeeming your rewards! You can modify your shipment or unsubscribe at any time.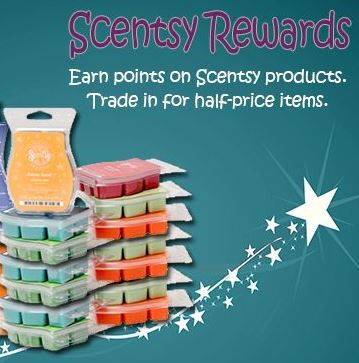 CUSTOMER LOYALTY FREQUENTLY ASKED QUESTIONS
What is Auto Ship?
Auto-Ship means that instead of individually placing an order each month, you can automatically have an order conveniently shipped to your house each month. You will always be assured that you will not run out of Scentsy products and be without them for any amount of time.
Is the Scentsy Customer Loyalty Program the same as an Auto-ship?
Scentsy Loyalty program is similar to most Auto-ship programs in that you will get products automatically every one, two or three months. The difference is not only do you set the frequency, you set the amount. You are also rewarded with discounted Scentsy products. Items are discounted up to 50% off.
What product are available as part of the program?
The program allows you to set up subscriptions for "consumable" products, which are consumed over a relatively short period of time and frequently replaced. The Scentsy Fragrance consumable products that are part of the program include Scentsy Bars, Scent Paks, and all Scentsy Care products, including Laundry Care, Bath & Body.
How do rewards points accumulate?
You will receive one "point" for each pound spent in the program. Orders of £50/€60 or more will earn an additional 10 reward points.
What can rewards points be used for?
For every 150 points earned on any subscription for a single brand, you will receive a credit for one half-price item. Half-price item credits may be redeemed on consumable products within the same subscription brand, on your subscription page on my Personal Website… Remember to save my shop name www.helenkeighley.scentsy.co.uk <http://www.helenkeighley.scentsy.co.uk>
Are there any restrictions on how to use earned half-price item credits?
Your half-price item credits must be used for consumable products within the original subscription brand and may not be used on certain promotional items.
Can half-price item credits be redeemed on multi-packs?
Yes, as long as all items in the multi-pack are consumable products eligible for the program. Be sure to click through to combine and save to add products to your basket to purchase multipacks.
Do half-price item credits expire?
No. Half-price item credits can be redeemed at any time.
Is there a limit to how many half-price item credits I can accumulate?
No. You may accumulate as many half-price item credits as you wish.
How do I set up a new subscription?
You can set up new subscriptions through my Shop online.
Can I edit my existing subscriptions?
Of course! You may edit existing subscriptions by accessing your subscriptions page through my Personal Website: You may change the address to which product will be shipped, change order contents, change payment method, change the day of the month you want orders processed, change the frequency of shipments, choose to skip a shipment, or cancel your subscription.
When can subscriptions be edited?
Subscriptions can be edited at any time. To have changes go into effect for the upcoming shipment, however, you need to submit any changes prior to payment processing. Orders will ship within 10 business days of processing.
If you modify a subscription after payment processing, processed shipments will still be sent to the address on file at the date of the processing and you will be charged for the shipped product. Subsequent shipments will take into account any modifications.
Are subscription items eligible for any specials that may be going on?
If a subscription item becomes discounted, the discount will apply at the time the order is processed; however, promotions that require selection of additional product cannot be processed through the program.
What happens if the credit card associated with a subscription is declined?
When a credit card associated with a subscription order is declined, we will try to process the order two more times. You will be notified after each processing attempt. If a card is declined a third time, the subscription will be deactivated. To reactivate a subscription, you'll need to visit the subscription page to update your credit card information and reactivate the subscription. Items in a subscription will not be shipped until the subscription is reactivated.
Can subscriptions be counted toward an open party?
The first instalment of a subscription can be counted toward an open party if you select the open party before adding the subscription item to your cart. Subsequent subscriptions cannot be attached to an open party.
How do I log in to view my subscriptions page?
You can log in to view your subscriptions page through my Personal Website.
When are subscriptions shipped?
Shipments may be set at 1-, 2-, or 3-month intervals; the intervals may vary by item. You may also select the day of the month you want a product shipment to process (excluding the 1st, 30th, or 31st day of the month).
In February, shipments scheduled to process on the 28th and 29th will process on the next-to-last day of the month (either the 27th or 28th).
Do products within the same subscription need to be shipped on the same schedule?
No. Each separate product can be set to ship on its own schedule.
What happens if an unavailable item is part of a multi-pack included in my subscription?
If you have a multi-pack included in your subscription that includes an unavailable item, you will receive an email alerting you that the item is no longer available. You may then edit your subscription to remove the remaining multi-pack items and, if you wish, instead add something else. If you choose to leave the remaining multi-pack items in your subscription, they will ship at full price.