Crackling Rose Scentsy candle warmer
A gorgeous bounty of blossoms graces the elegant curves of the Cracklin' Rose Premium Warmer. Highly detailed with a delicately raised surface, the finish is crackled, lending a unique look to each. The wild rose color works in your dressing area or the baby's room, perfect to welcome a favorite aunt or grandma for a visit in the guest room or even to stand out in the kitchen.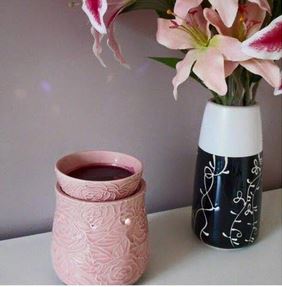 Get on board with Cracklin' Rose, a graceful urn in French rose pink with a delicate and detailed raised design and a crackle finish. Masses of fully blown blooms fill every surface of this Premium Warmer together with lovely leaves, swirling in a symphony of style. The look is very feminine and would work well in a powder room or upon a lady's dresser. With its floral mystique it would also be at home in a sun room or three season porch.