Camping fragrances to fall in love with. Whether you love tent camping or camping in a camper van, Scentsy offers a range of fragrance products perfect for camping families and those who love scent for on the go, add stunning scent to any space while enjoying your adventures.
Scentsy Scent Paks are perfect for camping!
Many campers may use vacuum packs to store away camping essentials, sleeping bags, ground sheets, towels etc, to freshen up your camping gear scent paks are perfect to place in with any type of linen, whether that's for storing or within travel & Leisure bags & Luggage , Scentsy scent paks provide stunning fragrance in a range of popular scents to keep your essentials smelling fresh. If you have a smelly backpack, Scentsy scent pak are your answer. Scentsy Scent paks are so versatile and can be used just about anywhere, Scent Paks are little fabric pouches with elasticated hooks, each filled with scented polymer beads for long lasting fragrance. Place these paks in with linen, inside bags or even hang them in camper vans or cars for a touch of freshness for your journey. Many Scentsy fans use scent paks in wardrobes and drawers at home for added Scentsy fragrance. These can be used for home or on the go, making them the perfect camping accessory, not to mention small and light for any journey.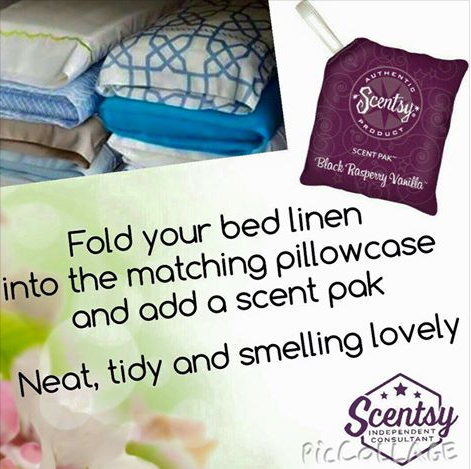 Explore all Scentsy Frgrances for your camping adventures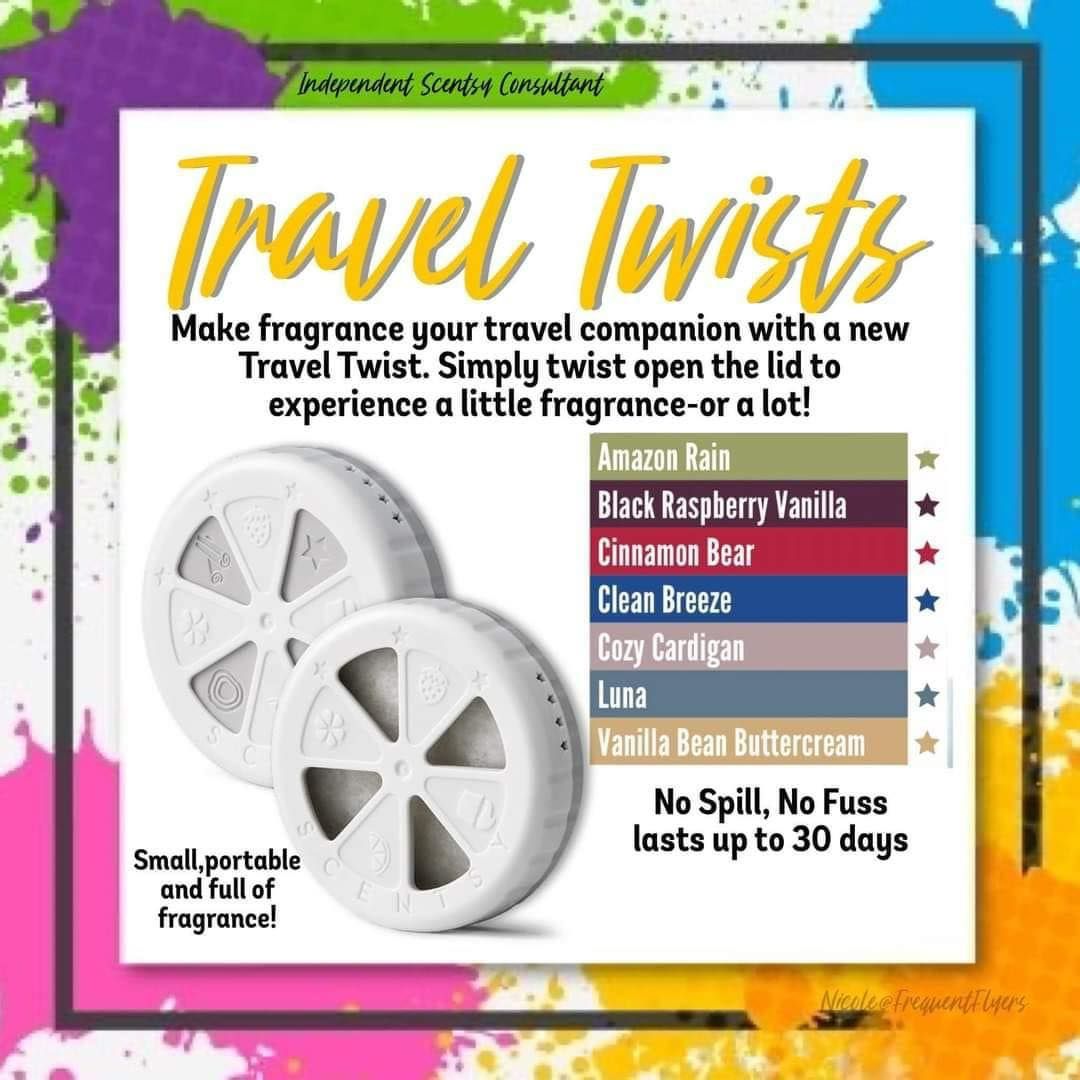 Scentsy Travels Twist perfect for camping
Scentsy fragrance range for on the go doesn't stop there, if you love an adventure our next product range has been designed with you in mind. We've created the perfect companion for your travels: the Travel Twist! It lets you experience a big fragrance with one small twist! Scentsy travel twists are perfect for just about anywhere with a small light compact design, simply twist open the lid to experience a little fragrance, or a lot of fragrance. You control the fragrance flow with your twist. Scentsy travel twists are mess free with no leaks & no drips, The slim, portable design makes it super easy to use, these foolproof scent systems last up to 30 days. Enjoy scent wherever you like in a range of our popular Scentsy fragrances.
Portable fragrance systems great for camping!
Let's talk about portable systems, if you're a happy camper you are sure to use a lot of portable products and items for your camping trips. Our Scentsy go portable fragrance system is a must have product for fragrance on the go. Our premium portable fragrance system lets you enjoy Scentsy wherever you roam. Choose from two models: Scentsy Go, which provides 18 hours of battery life, two fan modes and a seven-colour light display, or Scentsy Go Solid, which offers 12 hours of battery life and a single fan mode without illumination. Each style offers a built-in rechargeable battery and provides hours of travel-friendly fragrance, and charges easily with the included USB cord. Scentsy go systems are designed to be used with our Scentsy pods purchased in twin packs, filled with no-spill fragrance beads, Scentsy Pods provide up to 120 hours of fragrance. Each pack includes two Pods of the same scent.
Use Scentsy fresh for camping!
Scentsy fresh spray is perfect for trips to add a gorgeous scent. Spritz on hard-to-wash fabrics like carpets, upholstery, bedding and curtains, or wherever you want a burst of long-lasting Scentsy fragrance. Scentsy fresh spray is sold in a 473 ml spray bottle proving plenty of spritz for longer trips. Fresh spray is perfect for your camping carpets or campervan upholstery, don't forget to give that extra freshness on your bedding too.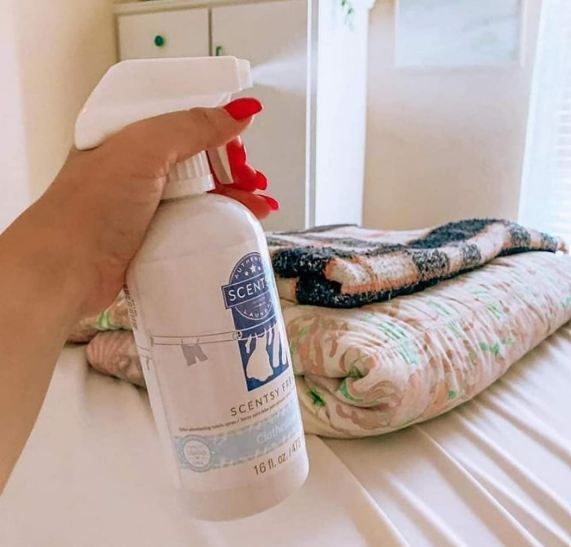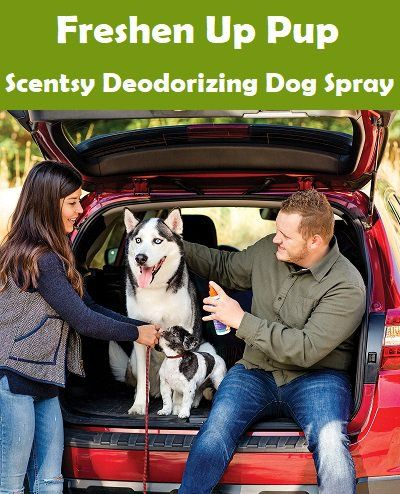 Scentsy fragrance for pets
Scentsy offers fragrances for everyone for on the go, if you take your furry friend away with you, you are sure to know how messy those furry friends can get while out and about enjoying their adventures, Scentsy have just the thing to freshen up your furry friends, enjoy Freshen Up Pup Dog Deodorizing Spray. If your diggy needs to de-stink, Use this odour neutralising spray to conquer those pee-yew moments with a burst of Scentsy fragrance. Infused with aloe, colloidal oatmeal and sunflower oil to condition the coat and skin. Provided in a 237 ml spray bottle. Scentsy deodorizing spray uses gentle formulas designed specifically for pets' sensitive skin. And while Pets products are developed specifically for pets sensitive skin, they're safe for human use, too. All Scentsy Pets products are formulated with aloe, sunflower oil and colloidal oatmeal to soothe skin, while keeping coats soft. Designed for pets 8 weeks or older. All Scentsy Pets products are 100% vegan. Our fragrances unique to the Pets product line are specifically designed to help neutralise odours. The entire collection is free of sulphates, parabens, dyes and alcohol.