Scentsy Candle Wax Bar Savings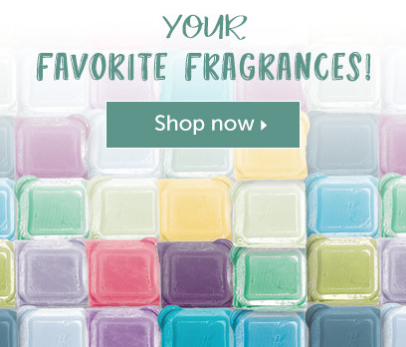 Scentsy Fragrance. Our Fragrance wax bars are a safe way to fill your home. Expertly created to hold more fragrance oil than any other traditional scented candle.
Scentsy fragrance bars are a great alternative to a traditional flamed candle, specifially designed to be gently warmed in our electric Scentsy candle warmers.
We have a great range of scented wax bars to choose from including corner café fragrances, romantic fragrances, floral fragrances, clean fragrances, men's fragrances, children's fragrances, classic fragrances, holiday fragrances, summer fragrances. Whatever scent you love there is something to suit everyone. If you wish to search for a Scentsy wax bar with a certain ingredient simply go to my Scentsy shop type the ingredient in the search bar to find all Scentsy wax bars containing the ingredient you love.
Scentsy bars can be purchased alone or you can now buy your Scentsy bars for less with our Scentsy Multi Packs, you can combine your order into a variety of cost-saving bundles.
We have a 2 pack multi pack saving you £1.00 on retail prices for our Scentsy bars or we have a 6 pack multi pack of scents bars saving you £7.25 on usual retail prices. When you buy Scentsy using our 6 pack option you are buying 5 Scentsy bars and getting one Scentsy bar free. It saves to bundle your order together.
Not only can you save using Scentsy bar multi packs, you can also combine Scentsy bars and warmers to also get great savings, saving you up to £11.00 when you wish to purchase 2 Scentsy warmers and 6 Scentsy bars and a combine and save bundle. Check out the combine and save section of my online Scentsy shop to view more great savings allowing you to buy your Scentsy products giving you great savings on retail prices.
With over 80 amazing Scentsy wax bar fragrances to choose from the choice is unbelievable!
Our Scentsy wax bars come in a bar of 8 cubes allowing you to use one or 2 cubes at a time to Scentsy your space, simple snap off the chosen amount of cubes you wish to use and pop them into the top dish of your Scentsy warmer to give off a great fragrance.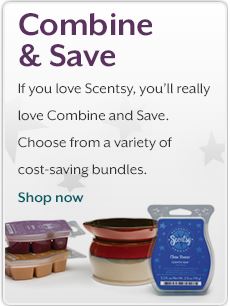 *Remember not to over load your dish with too much wax as the dish gently warms the wax from the bottom of the dish when the heat is gently released, we recommend only using one or 2 cubes in your Scentsy warmer at any one time. Overloading your dish with too much Scentsy bar wax can give a negative effect to your fragrance as the fragrance comes from the warmest part of the dish. In this case less is more. 2 cubes maximum is more than enough.
*Another great reminder to get more from your Scentsy wax. If you switch your Scentsy warmer off then decide to switch it back on again, remember to stir your Scentsy wax as the fragrance may drop to the bottom of the dish, one quick stir will allow the fragrance to release giving you more fragrance time from your cubes.
Our Scentsy wax bars are uniquely created Warm the Heart, Enliven the Senses and Inspire the Soul. We're obsessed with fragrance and how it makes life better. Share the Scentsy love with inspiring fragrances for your family, your home, your life.
*Here are a few tips on how to properly store your Scentsy Bars to maximise their shelf life:
Keep them in a cool, dark place.
Lay them flat whenever possible.
Don't leave them in direct sunlight for any extended period of time.
If you store your bars in the kitchen, avoid the drawers next to the oven.
Avoid keeping your Scentsy Bars in the car for too long - the sun could melt them.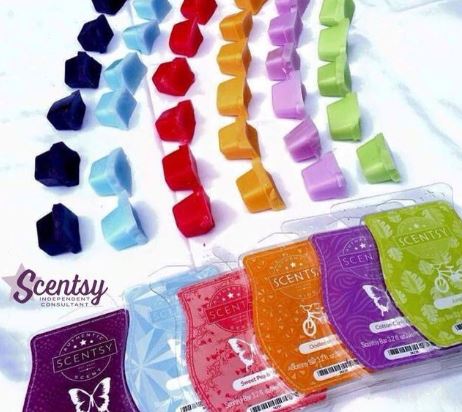 Here's a couple of reviews on random Scentsy fragrances… Including many Customer favourites…
Clothesline.
Clothesline - The ultimate seller in clean fragrances. Mmmmm! If you love strong fragrances, clean fragrances, fragrances that tend to last this scents is a one for you. A strong smelling clean clothing conditioner and washing powder fragrance. This has been the most sought after fragrance from my customers since its release. Who wouldn't want their home smelling of clean laundry? Not only is it a clean smell that most people adore this fragrance tends to last and linger throughout your home. If you find it too strong, I would suggest only using one cube at a time.
Blueberry cheesecake
Yummy yummy yummy!!! Scentsy Blueberry Cheesecake is a lush sweet smell! This is like indulging in your favourite guilty pleasure. This also smells like blueberry muffins - and who doesn't love those? This really makes your house smell like you just baked something delicious! Customers who love sweet smells Love it!!
By the Sea
Imagine a beautiful Spring day by the beach, the wind gently blowing the distinctive aroma of salty water towards you. This scent is exactly what you would expect given the name. It's calm, relaxing and definitely brings up memories of your favourite beach. Definitely more sea-like than Scentsy's Ocean scent, this is sure to please beach lovers!
Beach
Definitely one of my favourites! The funny thing is that Beach is not at all what you are expecting. You probably are thinking something tropical and ocean-like, but it's not quite like that. It is very fruity and mixed with a hint of coconut. I suppose you could say it's somewhat tropical. It is absolutely delicious though, and a favourite among many! Once you smell it, you'll want to be at this Beach all day long!
Black Raspberry Vanilla
This one smells just like it's title says - succulent berries, softened by vanilla. It's one of those scents that everyone seems to like. I had it warming at a house party and everyone loved it! If you need a great one for gifts - this is one definite recommendation!
Crisp Orchard Air
Perfect for getting into the winter season! This scent has the elements you expect - crisp apples, warm cinnamon and earthy sandalwood - but it's blended in such a way that it's not as powerfully Fall-like as Autumn Sunset or as deeply earthy as Autumn Stroll. This is wonderfully balanced right in-between!
Sweet Plum Pastry
Every other year or so, Scentsy puts out a scent that smells like a fruit pastry. They've done Berry Tart, Raspberry Danish, and now Sweet Plum Pastry. Each of these scents features a tart but sweet berry wrapped in a buttery, flaky pastry shell. Sweet Plum is less tart than the previous scents, and very slightly less buttery. If you're a lover of flaky crusts and berry centres, this is the scent for you!
Cinnamon Vanilla
Classic vanilla mixed with cinnamon, and not much more! Scentsy lists coconut and cassia also being in there, but if they are, they are extremely subtle. Mostly it's just cinnamon and vanilla! It's a great wintery fragrance to warm on those dark cold winter nights.
Clean Breeze
Clean Breeze is the straight up, unmistakable smell of freshly cleaned laundry. There's nothing else to it, just nice clean clothes! It's a distinct smell of washing powder giving it a nice clean scent
Coconut Cotton
Imagine the most serene beach, somewhere tropical and warm, without a care in the world, and wearing the softest cotton shirt that flutters in the soft breeze. That is this scent! Not at all like laundry, just a soft, mellow, relaxing coconut smell that is not at all overpowering. And not too sweet either! The coconut part is almost indistinguishable, but I think it's what keeps this scent so fresh and relaxing. Wonderful!!
Coconut Lemongrass
I LOVE this one! Rich buttery coconut pairs perfectly with tart lemon. If you love coconut, you have got to try it. I've noticed this is a nice strong smelling fragrance that tends to linger in your home from a while even when switched off.
French Lavender
If you just love lavender this is the one for you! It is slightly different than the normal lavender smell you're probably used to, but it's very good. Customers tend to buy this one to use in bedrooms to help relax and go to sleep - it's so relaxing!! Such a treat!! Not too strong either just a nice mild simply fragrance.
Newborn Nursery
This scent is specifically targeted at anyone who yearns for the classic baby powder smell. Whether you enjoy it for nostalgic reasons or if you're using for the clean smell, the aroma is exactly what you expect it to be and won't disappoint! This is a nice strong smelling fragrance that tends to linger when switched off, a well-known customer favourite.
Sunkissed Citrus
I'm walking on sunshine!! That's what this scent brings memories of. Imagine a bright sunny day, sipping some orange juice and just enjoying the warm sun. Sunkissed Citrus is a bright and happy citrus scent - not at all overpowering or overwhelming, just all around feel good!
Sweet Pea and Vanilla
This fragrance is lush it has a very soft floral and faint sweet, almost candy-like, smell that is absolutely delightful. I personally think the name with 'pea' in it can be off putting, but this one is definitely worth a try, it's a nice subtle fragrance, I would say more sweet pea than vanilla in this fragrance.
Welcome Home
Welcome Home is a deep spicy fragrance, perfect for those who love cinnamon or deep crisp winter fragrances. A nice strong spice fragrance if you like spice of course.
Vanilla Bean Buttercream
When warmed it smells like the real thing! If you love sweet smells or vanilla and you're looking for the ultimate rich, creamy, buttery vanilla - this is it!!! Sweet!
Luna
Luna is one of those Scentsy scents that warms slightly different than what you smell in the package - but it's a good thing! When you smell it in the package, it has a cleanish sort of smell to it but when you warm it, it opens up. Luna is a lush fragrance which smells like Warm sandalwood, very soft floral and just a tiny hint of berry. This is a really great smell for bathrooms and quiet, tender evenings. This genuinely is a nice subtle fragrance customer's love. This is the very first fragrance I ever warmed when I became a consultant and still its stays with me as one of my guilty pleasures. Another perfect choice if you are buying a gift for someone and unsure what they would like.
Shimmer
A gorgeous fragrance! This is the soft, feminine side of romance! Scentsy calls it cherries and apricots, but I would call it delicate floral like jasmine too. It's mixed with a sensual white musk for that romantic feel. This is one of the not-too-strong scents that is not over powering that also makes a great choice if you are buying a gift for someone and not sure what fragrances they would like.
Shaka
My favourite of of the mens range… but women love it too! it's a calm, relaxing deep sandalwood scent. Very woodsy and chill, this smells quite like really clean men's shower gel in my opinion. It's almost like a man's spa fragrance because it's so relaxing and seems more like an essential oil. Very nice!
Cherished
Soft, romantic and feminine, Cherished brings bright tropical floral, sultry jasmine and a bit of juicy guava into this aroma. It's very light but wonderful for a candlelit bath or a peaceful moment in your day. Cherished has been another great seller.
Give Me Passionflower
Like walking into a lush, tropical garden! Fragrant tropical flowers mix wonderfully with passion fruit and ripe pineapple. The scent has a really good scent throw - not overpowering!
Blueberry Rush
Usually when you hear "blueberry scented", you probably imagine what I do - something like blueberry muffins! This is not a bakery sort of scent though. Instead, it's more like blueberry candy. If you love the smell of blue slush this is the fragrance for you, it reminds me so much of blue slush. Customers old and young love it, especially the kids of course, not too overpowering either.
Jumpin' Jelly Bean
This is a jelly sweetie smell a strong fragrance that is a lemony lime and apple aroma mixed with a sugary sweetness distinctive to jelly beans. I'm not a one for jelly sweets, so it's not a fragrance for me, but it's been really popular with my customers who love that type of smell.
Lemon Verbena
Lemon Verbena is a flowering plant with a very strong, lemony smell. The aroma is amazing and intense. Scentsy's Lemon Verbena doesn't disappoint! It's a very powerful citrus, tart lemony aroma that I think smells wonderful! If you love lemon and love strong scents, this one's for you.
Christmas Cottage
This is a great seller for the Christmas and winter season (if you love cinnamon) it mixes all of the best scents of the season into one memorable scent! Orangey and cinnamon with other "Christmassy" scents in there as well, this one is amazing in your home during the festive period and absolutely perfect to go with a Christmas gift!
Duchess
This is a very rich and seductive scent, very much like a perfume you would wear in the evening for a special occasion. it's a great smelling clean perfume like fragrance. Duchess is another one of my all-time favourites and another customer favourite. A great scent for those who like nice strong fragrances.
With Scentsy the choice is unbelievable! You can only combine and save on current Scentsy wax bars, however If you love a fragrance and it is no longer showing in my Scentsy store checkout my specials section. In my special section there will be a range of discontinued products and fragrances up for grabs at discounted prices giving you more savings, of course only available while stocks last, but you may well find a previously loved scent that you can no longer get hold of. If you find an old favourite I suggest stocking up on those before they are gone. There are no guarantees that an old fragrance will return, sometimes they do, sometimes they don't, if you have the chance to get hold of one, take the chance while you can. Not only are there old favourite in bars in my specials section, there are also old favourite warmers, scent paks, buddies and other products. Grab a bargain before they sell out.