Scentsy Bars - Scentsy Bar Wax - Buy 5 Scentsy Bars Get One Free!
Posted on
Scentsy Bars - Grab great deals buying in bulk with Scentsy. Buy 5 Scentsy bars get one free. Refresh your home with Scentsy's authentic wickfree candles. Simply break off one or 2 cubes of your favourite Scentsy Bars and place them into the top dish of your warmer to give off a great fragrance. Scentsy warmers and wax bars are a safe way to fill your home or office with your favourite fragrances. Whether you love fresh, fruity, sweet, crisp or romantic fragrances theres guaranteed to be a stunning fragrance you will love.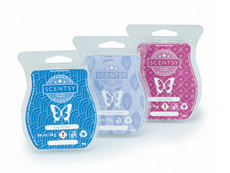 With more than 80 different fragrances, the variety of Scentsy bars offers you a large selection of scents. Each bar has eight wax squares. In a normal room you should only need one to two wax cubes from your Scentsy bar to safely fill your space.
If you would like to change the fragrance and use another scented wax bar, you can simply pour the wax out, wipe the top plate of the Scentsy candle warmer with a paper towel and add a square or two from a different Scentsy bar.
One of the advantages of Scentsy bars is that if the fragrance in your wax hasn't all been used up, you can simply pour the warmed wax back into the plastic mould of the Scentsy Bar to be used again when you desire.

Each of the new Scentsy Bars lasts approximately 80 hours; however, those with stronger scents will last longer than the lighter scents.
Compare the cost of Scentsy bars and their longevity with a traditional scented candle, and you will find that Scentsy bars will save you money. Additionally, you will no longer need to worry about the dangers of traditional candles.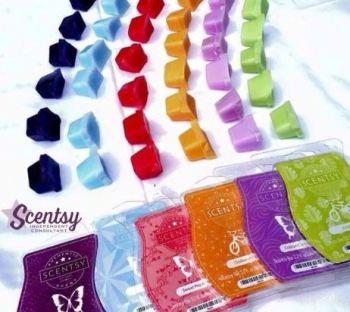 ** Hints and tips…
If you have finished using your Scentsy bar and wish to use a different fragrance, place a few cotton wool balls into the top of your Scentsy warmer dish to soak up the melted wax, you can then get rid of all old melted wax without having to pour, gently wipe the top dish and add new cubes of fragrance.
If you turn off your Scentsy warmer and wish to continue to use the same Scentsy wax bar cube you have in your warmer once you turn it back on, remember to give your Scentsy wax a stir once it re melts, this will allow the fragrance to lift and flow allowing you to get more from your wax.

Get your Scentsy bars today!