Scentsy Fragrance Diffuser
Posted on
Scentsy diffuser - Scentsy Oil Diffuser - Scentsy Fragrance Diffuser - Shop Online and find your perfect diffuser. Scentsy Oil Diffusers offer the most personal fragrance experience yet, add water and your favourite Fragrance Oil to the reservoir, choose your light and mist settings and enjoy. If you love glitz, glamour, light and scent these are the diffusers for you! We have an amazing range of Scentsy diffusers in various styles to suit any style or taste. All of our Scentsy oil diffusers have 16 led lighting settings and are the perfect addition to any room or décor. Our Scentsy oil diffusers are an amazing interior design product not to be missed and make great gifts for that special person in your life or simply to treat yourself and your home. All of our diffusers come with a lifetime warranty so once you purchase your diffuser follow the instructions with your new diffuser to get yours registered for your warranty.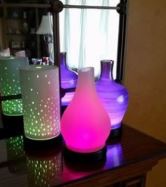 If you would like to purchase a Scentsy diffuser you can head straight over to my online Scentsy store and have your diffuser delivered direct to your home, pair with one of our natural or essential oils for the perfect sensory experience.

Do you love the sound of these amazing products?
Find out everything you would need to know about our diffusers here.
Our Scentsy Home fragrance Diffusers are the worlds most advanced ultrasonic diffuser and has been created like no other to warm lighten and inspire. We have many options of diffusers and you can now purchase a new shade alone if you would like a change instead of buying the whole new Scentsy diffuser system again. There are 2 buttons on the bottom of our diffusers one controls the mist and the other control the light and colours. Our world class ultrasonic home fragrance diffuser is made of durable plastic; the base with a special ceramic disk set in the bottom that resists corrosion, the disk is what makes the diffuser work so well. Add 4 oz of water to the base of the unit,( to the fill line) then start with 4 or 5 drop of Scentsy oil (depending on strength wanted) turn on and enjoy, you choose the strength of the fragrance by adding as much or as little oil as you desire! There is a tiny computer inside; this is really hi tech, allowing you to choose your mist and lighting settings, this is the most advanced led lighting you're ever going to see. There are 16 lighting options including, highlight, low light and candle flicker effect. If you want the LED light just push and hold the button for 1 n half seconds, it's a sensory experience in itself. You can push it in to stay on a colour or push it to change colour.
Don't miss out on these amazing Scentsy diffusers - A personal fragrance diffuser like no other. Shop the full range now.
If you love glitz, glamour and sparkle check out our Enchant Scentsy diffuser!