Scentsy Candles - Scentsy Fragrance Candles - Scentsy Candle Warmers
Posted on
Shop Scentsy fragrance Candles & Warmers. We have an amazing range of Christmas candle warmers and fragrances available this season. Brought to you by Scentsy a brand you can trust. Christmas themed Scentsy candle warmers and Christmas themed scnted fragrance wax bars are now available to buy online. Not only do we have an amazing new range of Chritsmas themed products we have a fantastic range of Scentsy candle warmers, diffusers, scented wax bars, scented teddies and other fab products perfect for gifts this Christmas.
Everybody knows that someone special who is difficult to buy for... Someone who has everything so you are stuck for gift ideas. Now you can shop the amazing range of products online and have Scentsy gifts sent direct to your home.
Are you new to scentsy? Unsure what Scentsy is? Scentsy offer amazing safe wick free electric candle warmers designed to gently warm scented wax from a low watt hotplate inside of the warmer to give off an amazing scent wax experience. Many of Of wick free Candle warmers have an amazing glow to give off that cozy feeling during any cold dark night. Because our Scensty candle warmers are only designed to gently warm scented wax and not burn, this allows our Scentsy candle wax bars known as scentsy bars to hold more scented oil than any other traditional wicked scented candle, giving you an amazing scented wax experience without using any wick or naked flame. No fire risk and no risk of burning children or pets. Feel free to navigate aroung my website to find out more.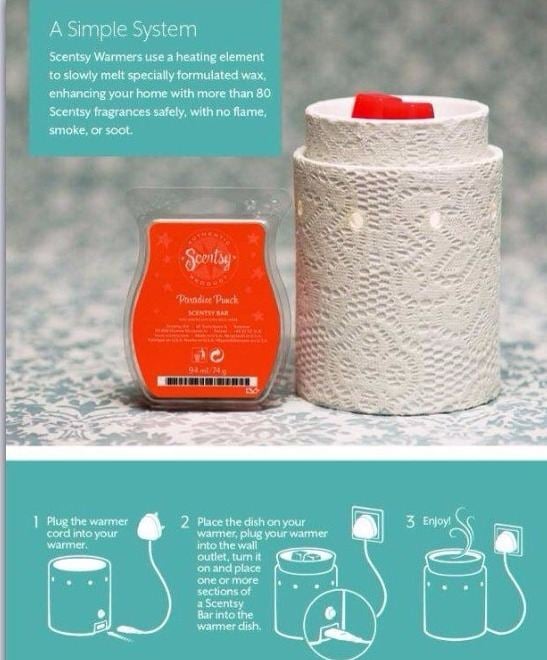 If your are looking for that extra special gift... look no further we have our exclusive world class Scentsy oil diffusers with 16 led lighting settings... these products have to be seen to be appreciated! A must have piece for any home!