Scentsy Etched Core Wick Free Candle Warmer & Butterfly Wrap
Posted on
The Scentsy etched core candle warmer has a gorgeous silhouette effect glow in the dark, can be used alone or with the distressed look metal wrap or any other wrap scentsy has to offer. Check out my Scentsy website to view the range of silhouette wraps to use with this fab etched core scentsy warmer. A really popular candle warmer designed to gently warm and melt scented wax from a low watt hotplate inside of the warmer.
Why not treat yourself and your home to this amazing plug in candle warmer or give someone as a special gift. Buy your etched core Scentsy warmer online and have your warmer and Scentsy products delivered to your door.
Place 1 or 2 cubes of our Scented Scentsy bar wax into the top dish of your warmer, switch on, let it gently warm and melt and enjoy!
Etched Core Scentsy warmers through the day...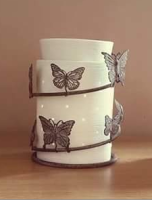 Etched core Scentsy warmer lit up on an evening...