Scentsy | Looking For Passionate People Who Want To Succeed
Posted on
Become a Scentsy consultant. Join Scentsy. At Scentsy, we want to inspire people with beautiful fragrances and the memories and emotions they bring forth. But it all begins with you. We need passionate people who want to succeed on their terms, without sacrificing precious time with the people they love.
Read my story to find out how my business has impacted my life for the better, and then let Scentsy change yours. Selling Scentsy is easy. Show your love for the products and let the products do the rest. Change your life by offering amazing scented products you believe in. I'm always looking to enrol, sponsor and support new consultants in UK, Ireland, Deutschland, Poland, Ireland, Austria, France, Italy, Luxembourg, Spain, U.S.A. Canada & Mexico. If you would like to take up the opportunity and become a Scentsy consultant join me selling Scentsy here.
*If your country is not listed on the join page, Please contact me to add your country manually so you can get started.
If you would like to discuss joining Scentsy as a consultant and you are on Facebook you are more than welcome to contact me through Facebook as well as by the contact form provided.
As soon as you join, we'll send you a Starter Kit with all of the products and business tools you need to launch a thriving new business, including catalogs and a whole set of scent testers. The starter kit has everything in it you need to get started. Why wait? Join now to get your Scentsy business started. An opportunity not to be missed.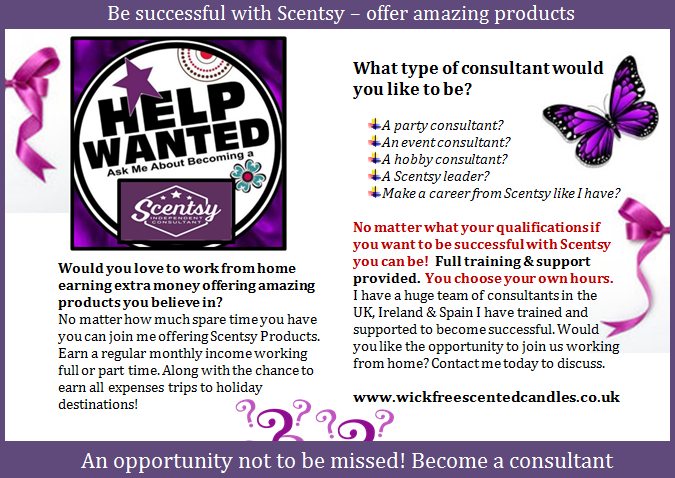 ---