Scented Gifts | Light Up Her Life With Scentsy Warmers & Wax
Posted on
Looking for unique gifts to buy instead of the usual clothes, jewellery, make up? Scentsy warmers are designed to gently warm & melt scented wax from a low watt hotplate inside of the warmer to give off an amazing scented wax experience.
Every Scentsy warmer comes with a 3 year guarantee! Scentsy warmers come in a huge range of styles & colours to match any decor. Once you have purchased the warmer you get at least 3 years use out of the warmer and only buy scentsy bar scented wax as often or as little as you like!
There's over 80 stunning scented wax fragrances to suit everyone, floral, romantic, mens, kids, fruity, spa, clean, summer, winter & more!illuminated
no lights, colour rotation, Modern, Stylish or colouful, the choice is yours!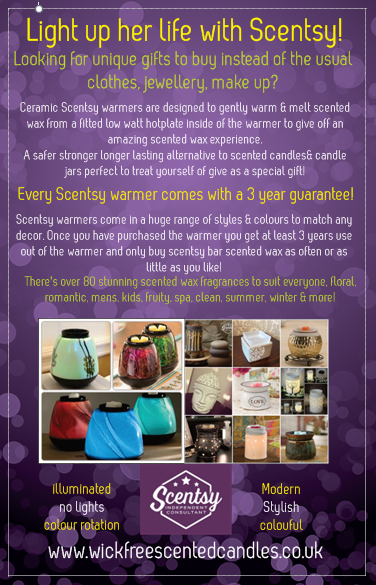 ---