Glow In The Dark Scentsy Warmers | Check Out Our Great Range!
Posted on
Fancy a warmer with a glow? If you are looking for a glow in the dark Scentsy warmer, these Scentsy warmers may be right up your street. Check out out great range of warmers that light up.
Here are some examples of Scentsy warmers that have a fab glow in the dark effect, all with a 3 year guarantee as usual and all suitable to gently warm and melt your favourite Scentsy fragrances.
Unsure what the names are of these examples of the fab glow in the dark scentsy warmers...
Left picture...
Top left tilla warmer (with glowing tree)
top middle vine scentsy warmer
top right (no longer available)
bottom left etched core scentsy warmer with loom wrap
bottom middle whoot scentsy warmer
bottom right, the etched core scensty warmer alone without a wrap.
The right picture show the stunning chasing fireflies scensty warmer during the day and on the night went glowing.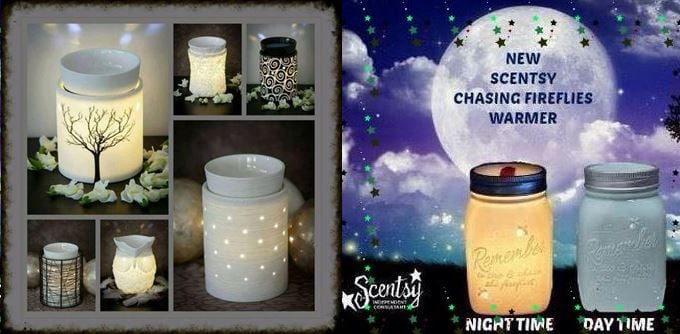 Some of the above may no longer be available. If you wish to view some more of our fab glowing collection visit my shop, use the warmers tab, silhouette warmers are great for a night time glow effect and can be used with or without a Scentsy wrap.