Scentsy Aromatherapy & Scented Oils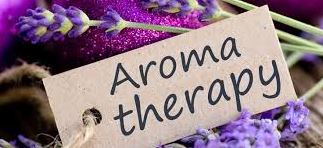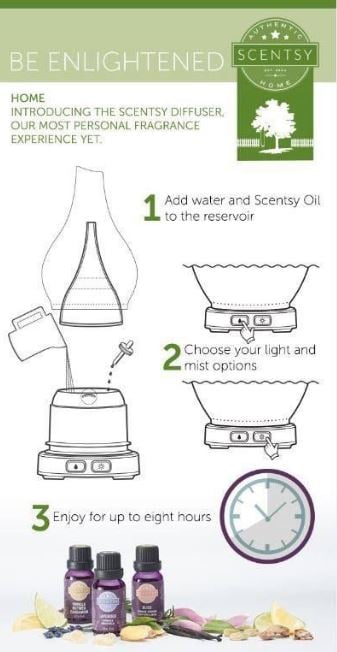 Scentsy Oils. Shop Online for aromatherapy products choosing from a great selection of fragrance Natural Oils, Essential Oils & Diffusers.
Create a perfect aromatherapy moment with our natural, essential and essential oil blends brought to you by Scentsy. With mood-enhancing abilities, they can help to uplift, relax and revive you. Scentsy natural and essential oils are designed to warm the heart, inspire the soul and enliven your senses. With an amazing range of aromatherapy oils to choose from you can enliven your senses knowing our Scentsy oils are globally sourced from the most fragrant plants and Spices. Our Scented Scentsy Home Fragrance Essential oils and natural Oils come in 3 types of aromatherapy oils… Scentsy Essential oils, Scentsy Essential oil blends & Scentsy 100% natural oils... Scentsy Essential oils are harvested from the most fragrant botanicals in the world; our pure essential oils deliver a singular fragrance. Combine with other Scentsy oils to create a personalised Sensory experience. Scentsy Essential oil blends are Created in partnership with expert cultivators and fragrance designers, our Essential oil blends are handcrafted into complex, aromatic formulas that Connect body, mind and soul. Our Scentsy 100% natural oils are Artisanal home fragrances created from blends of naturally derived ingredients and Steam-distilled essential oils, globally sourced from the most fragrant plants and Spices. Breathe and Relax with Scentsy aromatherapy and essential oils exclusively for the new Scentsy Diffuser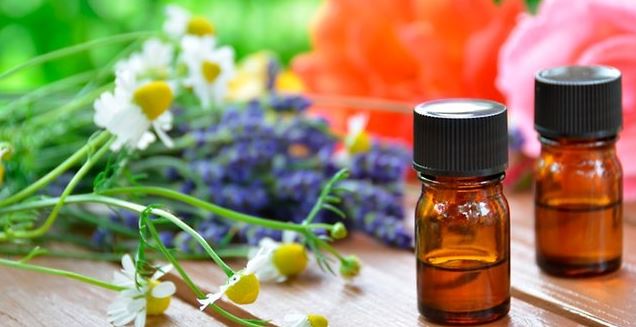 With Scentsy what matters is the fragrance; we work with the best essential oil fragrance company in the world to get the best smelling aromatherapy fragrances. We went with the best oils in the world to provide a better sensory experience. Whether you select simple, single-note essential oils or more complex 100% natural oils or essential oil blends, Scentsy oils infuse your space with artisanal, natural aromatherapy fragrance.
At Scentsy we believe what matters is the fragrance and how the fragrance is diffused, which is why we have launched the new Scentsy aromatherapy Ultrasonic oil diffuser… Unique and elegant, Scentsy aromatherapy oil diffusers change colour and are the perfect decorative piece to have in your home. Our Scentsy aromatherapy oil diffusers are currently the worlds most advanced oil diffuser on the market allowing you to diffuse your aromatherapy evenly using a cold mist technology. Our Scentsy aromatherapy oil diffusers allow you to control the amount of fragrance used and personalising the fragrance to your desires.

Scentsy aromatherapy Oil Diffusers offer the most personal fragrance experience yet, add water and your favourite Fragrance Oil to the reservoir, choose your light and mist settings and enjoy. If you are aromatherapy mad, this is a must have product for you! Our Scentsy aromatherapy oil diffuser provides your space with glamour, light, mist and fragrance dispersed evenly using fine cold mist. a simple computerised system within the Scentsy aromatherapy diffuser is the magic of the system, when you add water, oil and switch your diffuser onto your desired setting the disk vibrates and it immediately creates a fine cold mist by pulverising the water and fragrances together, the delicate balance of that precision, the quality of the materials of the disc and the computer chip that controls it, is all that makes our home fragrance diffuser the best. Each aromatherapy Scentsy oil diffuser has 16 led lighting settings which allows you to rotate through the colours, stick to a favourite, use a candle flicker mode or switch off while being diffused, you can choose a colour to go with your mood.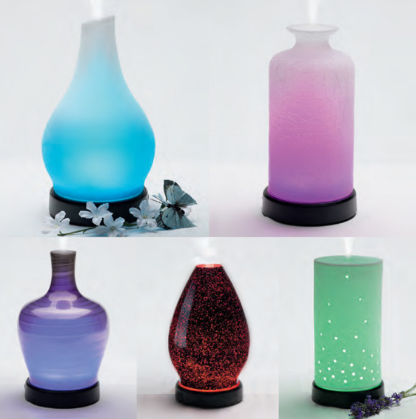 Not only are our Scentsy aromatherapy diffusers a great interior design world class product, our Scentsy diffusers also make great gifts for that special person in your life using quality, style, light and scent to help evoke or create your own memories. You can use your own favourite aromatherapy fragrance oil in your diffuser or choose from one of our uniquely created scented fragrance natural or essential oils to pair with your diffuser. Let Scentsy Aromatherapy take you anywhere you can imagine and bring back favourite memories.
Aromatherapy is the practice of using the natural oils extracted from flowers, bark, stems, leaves, roots or other parts of a plant to enhance psychological and physical well-being. The inhaled aroma from these "essential" oils is widely believed to stimulate brain function
Aromatherapy uses plant materials and aromatic plant oils, including essential oils, and other aroma compounds for the purpose of altering one's mood, cognitive, psychological or physical well-being. Aromatherapists, who specialize in the practice of aromatherapy, utilize blends of therapeutic essential oils that can be issued through topical application, massage, inhalation or water immersion to stimulate a desired response.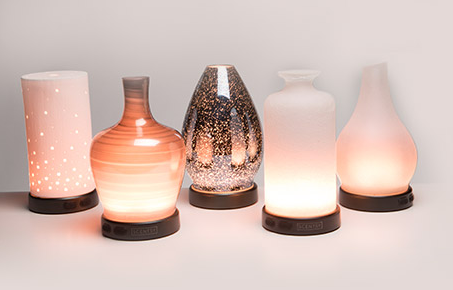 Scentsy aromatherapy Oil Diffusers - The Newest Fragrance Delivery system from Scentsy.
Scentsy Oil Diffusers feature the world's most advanced ultrasonic nebulizing diffuser, with 16 LED lighting options, and 3 mist settings… We are so confident in the technology and durability in our world class ultrasonic Scentsy home fragrance diffuser that we are offering a LIFETIME WARRANTY!

• The world's most advanced ultrasonic nebulising diffuser • Lifetime warranty • 16 LED light options • The only diffuser offering interchangeable decorative shades to complement any décor • Delivers a consistent fragrance experience • High, low and intermittent diffuser modes give you complete control over the intensity and longevity of your fragrance experience • Customise your fragrance experience by adding more or less oil • Cold-mist technology allows you to enjoy Scentsy fragrance instantly without waiting*Essential Oils - Harvested from the most fragrant botanicals in the world, our pure essential oils deliver a singular fragrance. Combine with other Scentsy Oils to create a personalised sensory experience.