Stargaze Scentsy Diffuser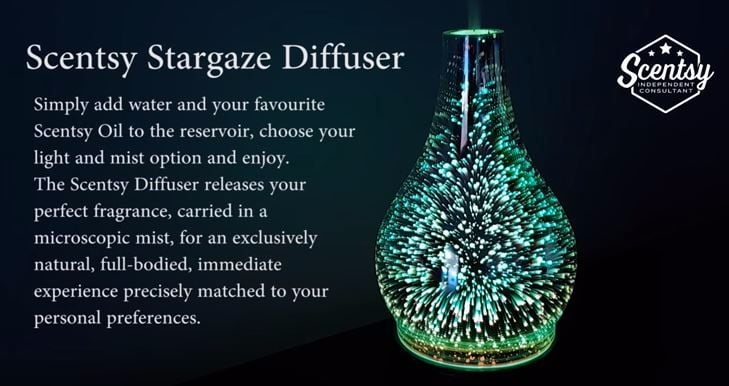 Stargaze Scentsy Diffuser / Scentsy Diffuser
Our Stargaze Diffuser is a stunning sought after design has been hugely requested after the release of the Stargaze Scentsy warmer release in the US, by popular demand this amazing Stargaze Scentsy Diffuser has been available to buy in the UK from October 1st 2017!
Our Scentsy Stargaze Diffuser was our most popular design and was launched as part of the Holiday/Christmas Collection. Stargaze comes alive with a brilliant burst of light and colour, giving you a front-row seat to a dazzling show. This stunning product must be seen to be appreciated. Look at the stunning design and colour change! This Diffuser would make a fantastic gift or to treat yourself!
This Stargaze Diffuser became so popular with Scentsy fans and customers throughout the UK, we decided to make it available throughout 2018 too. This is fantastic news for those who didn't manage to get their hands on one over the Christmas period.
Although the Scentsy stargaze Diffuser is our most expensive design and product at the moment, this is one of our best selling products so far. Scentsy are so certain our Diffusers are designed to last. We offer a lifetime warranty on defects for all scentsy diffusers, making stargaze all all round great buy.
Read more about our Scentsy Diffusers here on my website.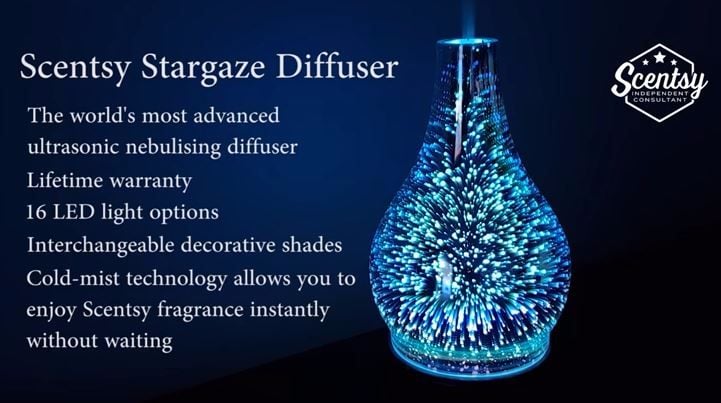 Our Scentsy diffuser can be used as a fragrance delivery system, humidifier, and a stunning focal point for your home, a relaxation aid or a night light and lamp! There are so many benefits to buying a Scentsy diffuser for you and your home and your family. Our Scentsy Diffusers are a stunning world class must have product.
One of the major benefits of having this device in your home is the protection it offers against dry air. This is particularly true during the winter when indoor air become dry from the heating system that robs the natural moisture in it.
In addition, a humidifier helps to add the much-needed moisture to your space and form an optimal breathing situation during the cold months. This can help your child to sleep better and loosen mucus build-up if used in a nursery. We not only offer a great range of designs to suit any décor we also offer children's themed diffusers too if you wish to use them in childrens rooms too!
Now you can see what great benefits our Scentsy diffusers can offer let's look at the great features on offer with each of our Scentsy diffusers too! Our 22cm tall diffusers come in range of styles and all have the same great features.
These unique vessels are currently the world's most advanced ultrasonic nebulising diffuser on the market
We offer a Lifetime warranty with each Scentsy Diffuser, you can be assured our diffusers are designed to last! If there are any problems with the manufacturing and workmanship of the diffuser you are covered by a lifetime warranty!
Each Scentsy Diffuser has 16 LED light options and a range of colour options. Our lighting options offer you a clear mode, candle flicker mode, various colour modes and also colour rotation mode which allows you to slowly rotate through each colour the diffuser has to offer. The colour options make our Scentsy diffusers a truly stunning decorative piece to add to any home or space.
The Scentsy diffuser is the only diffuser offering interchangeable decorative shades to complement any décor, one shade comes with the diffuser you choose, however in the future if you decide you would like a change without having to re purchase the whole system you can purchase a change of shade from a fraction of the price!
Each diffuser delivers a consistent fragrance experience.
Our High, low and intermittent diffuser modes give you complete control over the intensity and longevity of your fragrance experience or humidity experience.
You can customise your own fragrance experience by adding more or less oil to suit how strong you would like your fragrance. If you wish to use your diffuser as a humidifier only without oil, simply fill the reservoir with water and no oil. You get to choose what suits you best to get the best from your Scentsy diffuser and what you wish to diffuse.
Our Cold-mist technology allows you to enjoy Scentsy fragrance & humidity instantly without waiting.