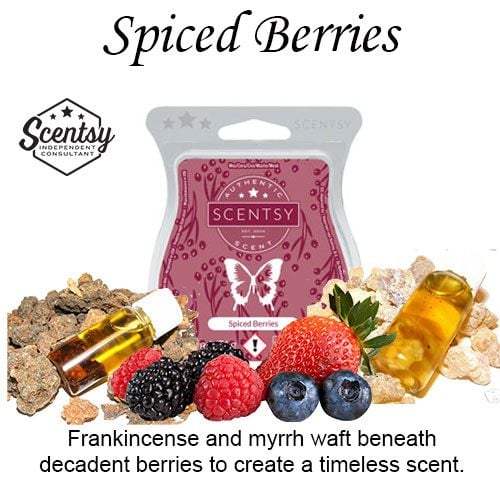 Spiced Berries Scentsy Bar Frankincense and myrrh waft
beneath decadent berries to create a timeless scent.
This Spiced Berries Scentsy wick free scented candle wax bar is a returning scent for our launch for our Autumn Winter 2020 range and loved by many, this is one of our best selling Autmun Winter fragrances. This scent is a touch of spice and fruity mixed.
Our fragrances are rigorously tested to ensure premium-quality scent that lasts. Add this medley of wax and fragrance to a Scentsy Warmer to experience multilayered scent that unfolds beautifully over time.
To check if our Spiced Berries Scentsy Bar is available head over to my Scentsy shop and search the name of it in the search bar, not only will this bring up the Spiced Berries Scentsy Bar it will also bring up any other range of Scentsy product in this fragrance, search Spiced Berries.
If you love this Spiced Berries Scentsy Bar scent you can buy a 3 pack of Scentsy bars to save £1.00 or a 6 pack of Scentsy bars to save £7.25, buy 5 get one free. Use the bundle and save option under the specials tab in my Scentsy shop before adding your scent choices to your basket to gain the discount. You can of course mix and match scents in these bundles.
If you are on Facebook free free to join my customer group Helen Keighley - Independent Scentsy Consultant to keep up to date with new and up coming product releases and fragrances.
If you would like email updates be sure to sign up to my NEWSLETTER.