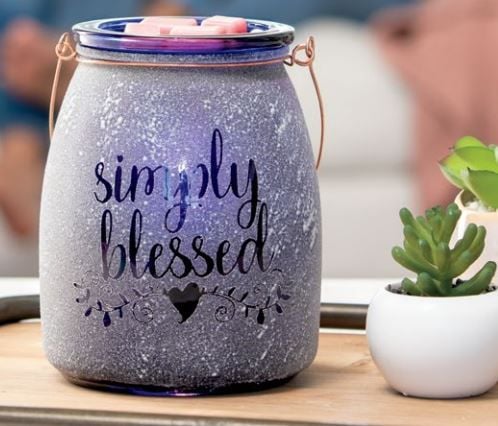 Simply Blessed Scentsy Warmer is available from February 2021. our Simply Blessed Warmer is our charitable cause Scentsy Warmer for 2021.
We believe in Generosity, Since 2010, our charitable cause products have been
warming hearts and changing lives around the world.
From 1 February to 31 July 2021, Scentsy will donate £9.50/€11.25 from the sale of each Simply Blessed Scentsy Warmer to charitable organisations.
By ourchasing our Simply Blessed Scentsy Warmer Your purchase helps Provide home, health and essentials We give to local and global charities that support children
and strengthen families.

When you buy Simply Blessed, we'll make a donation to a nonprofit organisation
in your country.

Through our charitable cause products, we've provided critical
funding to organisations like:
CLIC Sargent
Habitat for Humanity®
Make-A-Wish Foundation®
World Vision®
Our Simply Blessed Scentsy Warmer is 16 cm tall and lit with a 25w lightbulb to offer you great illumination as well as a candle wax warming system, pair with our Scentsy bars for a great scented candle experience while supporting amazing causes.