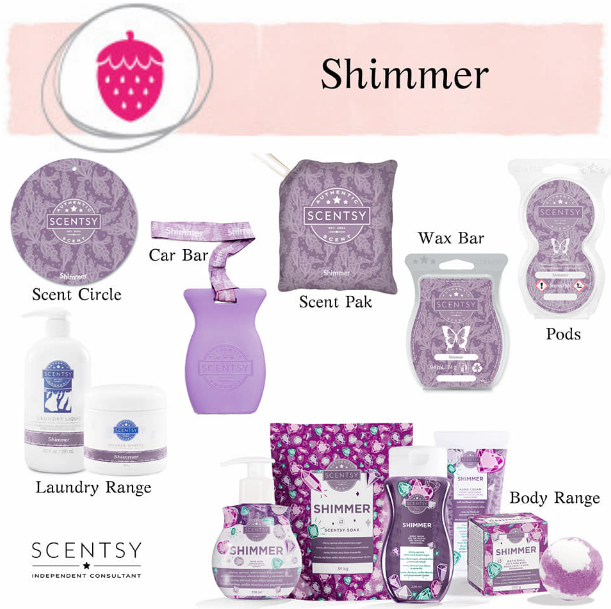 Shimmer Scentsy. This customer favourite Scentsy fragrance is available to buy in a huge range of scented products including Scentsy bars, scent paks, Scentsy pods, scent circles, car bars and our laundry range and body range. Get your girly-girl on with Sweet cherries, velvety apricots, and sensual white musk crowned with a tiara of shimmering spun sugar with our top selling Scentsy scent.
The easiest way to buy Scentsy products in our Shimmer fragrance is to visit my Scentsy shop online, use the search bar to enter 'Shimmer', all products available for purchase in that scent will come up.
Our Shimmer wick free Scentsy Candle Bar is made of high-quality paraffin wax for long-lasting fragrance, Scentsy Bars are composed of eight break-apart cubes designed to use with any Scentsy Warmer. As the cubes melt, they fill your space with our exclusive scents, inspiring imagination and memories. Safe to use with no wick, flame, smoke or soot. Made in Idaho, USA. Net wt 2.6 oz. Each Scentsy Candle bar offers 8 cubes of luxury fragrance for you to break off and warm in your warmer to provide you with a luxury safe scented experience. If you love a nice subtle scent this is the scent for you.
Our Scentsy Body range is gorgeous! If you haven't yet tried our body range treat yourself, you will be glad you did!
Our handcrafted Shimmer Scentsy Bath Balls offer more than just a pretty fizz. Inspired fragrances soothe your senses while premium vitamin-rich moisturisers help nourish and soften your skin. 150 g
Lather. Rinse. Repeat with Shimmer body wash, the ultimate everyday cleanser designed in stunning fragrances, with a rich, luxurious lather and skin-pampering sunflower oil and aloe. Paraben-free. 228 mL
End your day with a Shimmer Scentsy soak. Formulated with pink Himalayan and Epsom salts, premium moisturisers and exclusive fragrances, Scentsy Soak creates a relaxing bath experience like no other. 0.91 kg, multiple uses.
If you love our Shimmer fragrance take it with you on the go with our pods designed for Scentsy go portable fragrance system or blow our Shimmer scent throughout your home with the same scented pods which can be used in our new plug in wall fans too! Air flows through the Scentsy Pods and into the environment for immediate fragrance. The fragrance beads in the Pods release the perfect amount of scent for an incredible fragrance experience. Each Scentsy Pod provides up to 120 hours of fragrances. Shimmer Scentsy pods are purchased in twin packs.
It's hardly surpiring our Shimmer Scent made it into our laundry range as it has become so popular.
If you have not tried our laundry range yet, you don't know what you are missing!
Enzyme the grime with Shimmer Scentsy Laundry Liquid! A powerful 6-enzyme formula attacks difficult stains while penetrating cleaning agents lift away dirt. Leaves laundry remarkably clean as it enlivens your clothes, linens and towels with signature Scentsy fragrance. 591 mL (50 medium loads). Cleaning power comparable to leading laundry brands. A powerful blend of six enzymes targets hard-to-remove stains (tried and tested this is great for removing stains pre wash!). Surfactants lift away dirt and grime. Scentsy's signature long-lasting fragrances enliven your clothes, linens and towels. Highly efficient and ultra-concentrated formula works well in hot or cold water. Free of dyes and colouring agents; will not stain laundry.
Shimmer Laundry Liquid is best used with our Shimmer Washer whiffs for extra freshness to have your laundry and clothing smelling amazing! Shimmer Washer Whiffs by Scentsy are scent granules to give clothes, towels, and blankets a fragrance boost with just one scoop! Add to your washer drum. 453 g
If you havent explored the full range of scented Scentsy products in our Shimmer fragrance now its time to pop shimmer Scentsy products on your wish list.