Scentsy Delivery | Shop Scentsy Online For Home Delivery
Buy Scentsy wick free candle warmers, wickless candle wax bars and other Scented products online, have your products delivered direct to your door. Purchase as many Scentsy products as you like for a standard charge. If you buy scentsy online the shipping cost is £6 and never increases with weight!
I always advise anyone who wishes to buy Scentsy online to stock up to get the most out of the delivery cost. The standard delivery cost is £6.
If you order over £245 worth of Scentsy products you can earn the delivery free. In addition to receiving the delivery free contact me direct to earn free and half priced items on your order!
I can offer rewards from £245 sales onwards when placing the order for you manually. Free and half priced items can be used up on most brochure products, wickfree warmers, wickless candle bars, Scentsy buddies, Scentsy bath & body products and almost everything in the current Scentsy brochure excluding Disney licensed products.
If you are combining orders with friends and family to earn rewards and to gain free delivery all orders must go to one single address.
If you would like to get delivery direct to your home or one address without having to pay the delivery cost why not offer friends and family the chance to purchase Scentsy products with you at the same time, you place the order direct with me and reap the rewards.
If you wish to contact me direct to place an order to qualify for free delivery & rewards please contact me direct here.
Rewards go off total sales. Earn Host Rewards without having to have an actual party! As soon as your sales hits £245 or over you can be rewarded. The bigger the party, the bigger your rewards!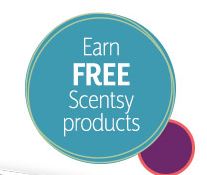 All bulk orders are placed as party orders for you to reap the rewards!