Throughout the year Scentsy offer a range of limited time offer gift sets at great prices offering you new unique scents you will love.
All limited time offer wax gift sets are produced in limited quantities and are only available while supplies last. New release products and sets tend to sell out very quickly. If we do have a gift set available you love, you must grab them while you can!
I offer a personal service to my customers to allow you to subscribe to my newsletter to receive the lastest news. This allows you to find out when these limited time new release sets are due to launch and information on each new product on offer.
Subscribe to my newsletter Be the first to hear about new product launches!
As many of you know our Scentsy wax gift sets are so popular and tend to sell out really quickly! Sometimes within 15 minutes, sometimes within an hour, sometimes within a few days, we never know how popular our Scentsy wax limited time offer gift sets are going to be. The last few new releases Scentsy have launched have been mega popular and sold out really quickly leaving many customers disappointed as many didnt manage to grab the sets they wanted.
If you see a limited time offer gift set become available, you are advised to buy at the release time due to the sheer popularity of them. With only so many produced for our region, this doesnt allow every customer to get their hands on them in time before they sell out.
Due to so many customers missing out on these special wax gift sets, i have chosen to offer a personal pre ordering service to give you the best possible chance of getting your hands on any new releases as they are launched!
You can contact me to pre order any Scentsy wax gift set or new release product. I order them at the time of the release, giving you the best possible chance to get your hands on them!
You can now use my personal pre-ordering service to pre-order anything being released prior to the release date!
Jelly Bean Wax Collection
Our new Jelly Belly Wax Collection is a classic mix of fragrance and flavour — there are some actual Jelly Belly beans in the box as well! Available starting 14 October and while supplies last, this collector's box includes five Scentsy Bars in some of Jelly Belly's most popular flavours:
Sizzling Cinnamon — A spicy, sweet blend of real cinnamon, orange zest and sugarcane.
Juicy Pear — Jam-packed with lush Anjou pears and bright vanilla cotton candy.
Toasted Marshmallow — Oozing with the buttery scent of fire-roasted vanilla, crystallised amber and hints of cedarwood.
Green Apple — A perfect fusion of tart green apples, spun sugar and candy-sweet vanilla.
Tutti-Fruitti — Tantalisingly fruity, juicy citrus and subtle florals swirl with wintergreen and cloves.
The Jelly Belly Wax Collection is just £36.00
HARVEST DELIGHTS SCENTSY BAR 3-PACK £20.75*/€25.25*
HUCKLEBERRY APPLE PIE Sweet APPLE and
HUCKLEBERRY topped with creamy
VANILLA make for a glorious (and guiltfree!) fall indulgence.
APPLE CHERRY CIDER
Toast to the harvest with fresh-picked
APPLE and CHERRY heightened by
CINNAMON STICK
CINNAMON ROASTED PEAR
Fall for rich ROASTED PEAR spiced with
CLOVE, CINNAMON and a touch of
vanilla bean.
Our Harvest Delights Scentsy Bar 3-pack, These limited time offer scented wax bars come in the pack of 3 and are not available to buy separate.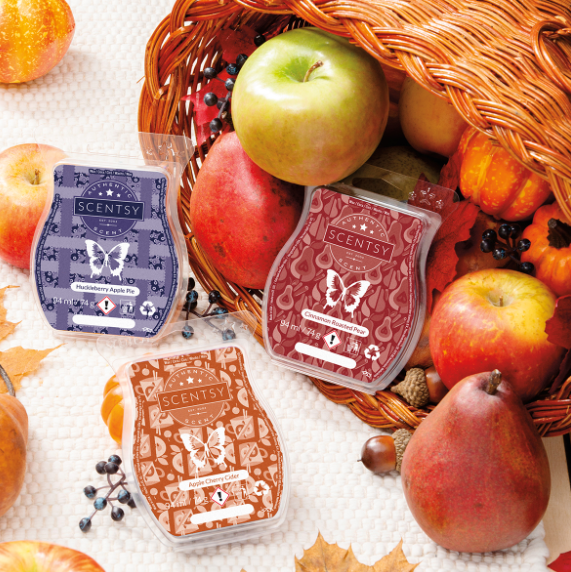 Fireside Christmas Scentsy Bar 3-pack
Fireside Christmas Scentsy Bar 3-pack £20.75
A set of three festive fragrances available exclusively in this bundle!
Brown Sugar Praline
Decadent layers of PRALINE and BROWN SUGAR finished by the perfect dash of SPICE.
Evergreen & Grapefruit
Fresh FIR NEEDLES and WHITE CEDAR sparkle with radiant notes of GRAPEFRUIT.
Hazelnut Frosting
Heavenly HAZELNUT CRÈME whipped with GOLDEN VANILLA and a hint of GINGER.
Includes a ready-to-give decorative box!
Scents not sold separately.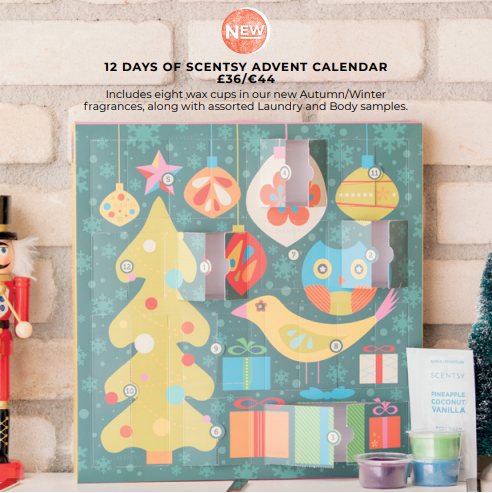 Our Scentsy Advent calendar was a huge sell out! Many customers did not manage to purchase these due to the sheer popularity of them!
Some of our limited time specials and gift sets are amazing! Be sure to you my Newsletter to be the forst to hear about new releases or use my personal pre order service!
I will certainly try my very best to ensure your requested order is fulfilled.