Register Your Scentsy Diffuser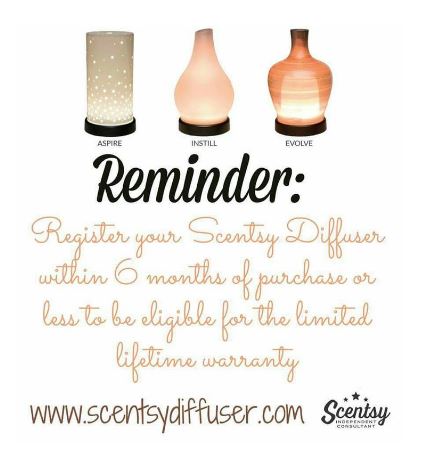 Scentsy home fragrance Diffusers are warranted to be free from defects in material and workmanship for the lifetime of the product. In order to claim a warranty, you must register your home fragrance product within 6 months of purchase at www.scentsydiffuser.com.
Any diffuser found to be defective or damaged under normal use and care will be replaced with the same, or comparable, product at Scentsy's discretion.
This warranty extends only to the product's original purchaser. This warranty does not cover damage caused by improper use of the product or accidental damage to the product or exchanges due to personal preferences such as size and color.
Instructions
WHEN USING THIS APPLIANCE BASIC SAFETY PRECAUTIONS SHOULD ALWAYS BE FOLLOWED
Read and save all instructions.
To protect against electric shock, do not immerse cord, plug or appliance in water or other liquids.
Disconnect appliance from outlet when not in use and before cleaning.
To disconnect, turn off appliance and remove plug from wall outlet.
Do not operate appliance if it is not working properly or has been damaged in any manner.
Do not attempt to repair the appliance yourself.
Only use the power adapter supplied with the device.
Appliance is equipped with a short power cord as a safety precaution to avoid pulling, tripping or entanglement. If an extension cord is needed, ensure cord is equal to or greater than 1,200 watts.
Do not let the cord from your home fragrance diffuser hang over edge of table or counter or touch hot surfaces.
Do not use appliance for other than its intended use.
Do not leave appliance unattended when in use.
Your home fragrance diffusing appliance is intended for household use only.
This device is not to be used by people (including children) with altered or reduced physical, sensory or mental capabilities, or those lacking in instruction or experience, unless supervised or trained on the proper use of the device by a responsible adult. Children must be supervised to avoid use of the device as a toy.
KEEP YOUR HOME FRAGRANCE DIFFUSER AWAY FROM CHILDREN AND PETS.
Do not place your home fragrance diffuser on slanted surfaces, high locations such as bookshelves or on unstable surfaces.
Do not use your home fragrance diffuser in an area where the steam mist contacts furniture, bedding, walls, curtains, ceilings or other objects.
Do not move or shake the home fragrance diffuser once it is filled.
CAUTION: Do not use if you have a known fragrance allergy.
If you would like to register your Scentsy home fragrance diffuser head over to www.scentsydiffuser.com