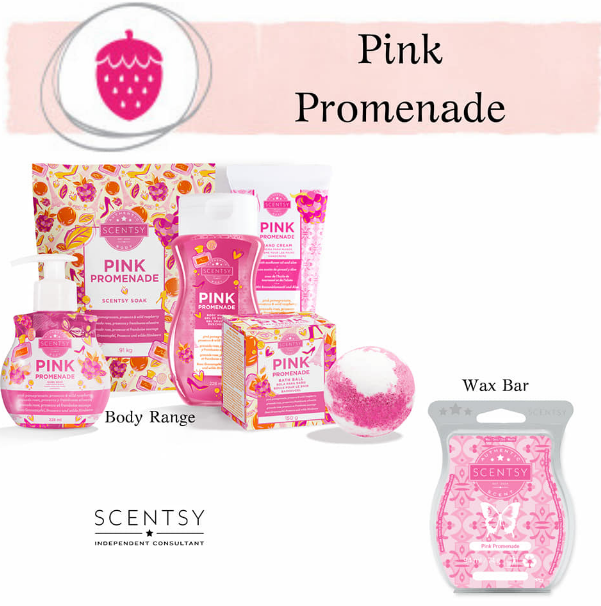 Pink Promenade Scentsy. Our popular Scentsy fragrance Pink Pomenade is offered in a range of gorgeous products including Scentsy bars, bath balls, hand soap, hand cream, body wash & bath soak. Pretty, with swagger to spare! Pink pomegranate, prosecco and wild raspberry were born to be wild.
The easiest way to buy Scentsy products in Pink Promenade is to visit my Scentsy shop online use the search bar to enter 'Pink Promenade' and all products available to buy in that scent will come up.
Pink Promenade Scentsy Candle Bar is made of high-quality paraffin wax for long-lasting fragrance, Scentsy Bars are composed of eight break-apart cubes designed to use with any Scentsy Warmer. As the cubes melt, they fill your space with our exclusive scents, inspiring imagination and memories. Safe to use with no wick, flame, smoke or soot. Made in Idaho, USA. Net wt 2.6 oz. Each Scentsy Candle bar offers 8 cubes of luxury fragrance for you to break off and warm in your warmer to provide you with a luxury safe scented experience.
Our Scentsy Body range is gorgeous! If you haven't yet tried our body range treat yourself, you will be glad you did!
Our Pink Promenade handcrafted Bath Balls offer more than just a pretty fizz. Inspired fragrances soothe your senses while premium vitamin-rich moisturisers help nourish and soften your skin. 150 g
Lather. Rinse. Repeat with Pink Promenade body wash, the ultimate everyday cleanser designed in stunning fragrances, with a rich, luxurious lather and skin-pampering sunflower oil and aloe. Paraben-free. 228 mL
Give your hands a life of luxury with Pink Promenade hand cream, vitamin-packed protection and pampering in a travel-friendly package allowing you to take your favourite fragrance with you anywhere you go. Made with sunflower oil and aloe. 80 mL
End your day with a Scentsy soak. Formulated with pink Himalayan and Epsom salts, premium moisturisers and exclusive fragrances, Scentsy Soak creates a relaxing bath experience like no other. 0.91 kg, multiple uses.