My Scentsy Story
My name is Helen, I am an independent Scentsy Star Director living in the UK. I offer Scentsy products to friends, family, local customers, through word of mouth, facebook, parties, fairs, events, or friends or friends and family. I have an amazing team of consultants who have joined me offering these amazing products, but i'm always looking for new consultants to train sponsor and mentor to become successful working from home. Seeing others achieve is the biggest success of all. Anyone that wishes to achieve to achieve with Scentsy can! The products are amazing and sell really well, most people fall in love once being shown Scentsy products. Whether you want to earn extra money as a second income, earn money as a stay at home mum, or you want to make a successful career out of Scentsy, You can and will achieve your goals if you put your mind to it.
Although i'm from the north east i'm happy to cover any areas, Hartlepool, Durham, Sunderland, Newcastle, stockton, Seaton, anywhere in County Durham, Cleveland or teeside for parties and events. I offer parties & events in other areas too no where is too far, However, If i am unable to attend, i'm happy to offer the party or event to a fellow team member. I have team members all over the UK, Ireland & Spain. I love my team who have becoe greatfriends, but I would love for more new consultants to join me offering these fab products, making memories and taking up the scentsy business opportunity to work from home.
This really is an opportunity not to be missed! Its a fexible opportunity to work from home around children, a current lifestyle or a current job working. It's an opportunity to work for one of the fastest growing worlwide companies offering products you believe in, on your terms, you choose when to work and how much effort you want to put into your Scentsy business...
Here's a little bit more about my story & Scentsy journey...
I originally joined Scentsy as I was looking to purchase a warmer and a variation of scents. I was purchasing from a friend who was already a Scentsy consultant. I lived quite a way away from my friend however I knew I could purchase from her for the 1st time and get the Scentsy products sent direct to my home. On chatting to my friend she advised me how much the variation of bars and warmer would cost and went on to chat about the opportunity and the starter kit...
I instantly realised me being 'me' and being 'nosey', I could smell all scents if I purchased the kit and joined. I didn't just want to try a few scents I wanted to try them all. By purchasing the starter kit I would get a warmer and all sample scents in the kit in addition to a wax bars to use. I intended to use the sample scents in my warmer instead of the full bars to try out every scent for myself. I thought the starter kit was fab value instead of me only getting a variation of scents I wanted to try them all. We discussed joining and purchasing the starter kit and the opportunity. The next day I officially joined Scentsy as a consultant. Never in a million years did I think i would be sat here saying I am still a consultant years down the line. I never once thought Scentsy could work for me. I thought to myself I have nothing to loose by purchasing the starter kit, if I feel Scentsy isn't for me I could simply keep the products for me to use personally in my warmer which I had originally planned to do.
Once my starter kit arrived she suggested having a get together at my home just for friends and family to see how things go. There was no pressure and I was sceptical as I had tried Direct selling previously and found it didn't work for me, but thought 'what can I lose?'.
Amazingly I was suprised I didn't think anyone would buy as some people who had a quick glance at the brochure alone said looking at the brochure the prices of the warmers seemed expensive, but as soon as everyone saw the products demonstrated, viewed how the warmer worked and smelt the amazing fragrances everyone purchased! I had a successful launch party! I couldn't belive it! Even my mam purchased a warmer and has really bad asthma, she can't use any type of air frenshners at all, but has never had a problem using her Scentsy warmer.
From my launch party this is where my journey began, I saw people loved the products, loved the scents and loved the safety aspect of scentsy. I found my sales took off from word of mouth from those who had purchased. Now I found myself doing something I actually enjoyed. It wasn't about the money for me as I wasn't looking for extra work or a new opportunity, but i found something that I enjoyed doing so continued. As I was enjoying the opportunity and sharing the products with people I decided to give myself a challenge and that was to see what I could achieve.
I decided to start sponsoring and mentoring others to do exactly the same. As well as working full time for my current job I have now worked the Scentsy opportunity around my current lifestyle. I never leave my home without a brochure, business card and samples in my bag, Because I can share the products or opportunity with anyone I may bump into. I now have a strong customer base and an amazing team that I can call friends, we all there for each other as often as possible, if one of us is not around there is always another consultant who is happy to step in and help with any questions, help, hints and tips needed. The support from each other is amazing. I know myself it takes time to build a solid customer base, however I also know if you continue to spread the word and share Scentsy products people fall in love and purchase. Most customers always come back for scentsy bars to use in their warmer, which makes it really easy to build relationships with customers as well as team members. The reviews from customers have been fantastic and they love the fact once they purchase a Scentsy warmer each warmer comes with a lifetime manufacturers warranty, which gives them peace of mind should anything happen.
For me Scentsy has been really family friendly, I can work it around my current lifestyle and also get my daughter joining in advising customers which scents she likes, she also loves Scentsy and now has a diffuser and warmer both in her room!
I have suprised myself in more ways than one with Scentsy. I never thought exhibiting in local fairs, craft stalls etc would be for me, however I saw my team grow and those who were exhibiting were doing amazing. I decided to take the leap and give one a go. Knowing this is not something I would normally do I was really nervous, the 1st stall I done worked out a success, they are a fantastic way of getting the products shown to people you don't know as well as people you do. People were wanting products or booking parties, I found even if they didn't purchase on the day they took my details and called when they had the money to buy. I personally can't do alot of events, however if I do get the odd offer of local events, i definately would take the event.
Due to working full time, I find offering basket parties works for me best rather than actual home parties or events. People get to see and trial the products, share the products wuth friends and family and collect orders in return for earning free and half priced Scentsy items. Each order over £245 qualifies for free and half priced items. This works really well with those who are Scentsy addicts themselves, it gives them the chance to earn their products much cheaper just by simply sharing the products... if you dont have a host and yu simply place the orders yourself you can use yourself as the host and claime the free and half priced items!
The moral of 'My story' is... no matter what your situation is, whether you already working, whether you are new to Scentsy, whether you already know Scentsy, whether you would just like a challenge or you would like to earn a regular monthly income, take up the Scentsy opportunity and see if you can make it work for you.
You can't lose anything by trying... that was my motto and i was sceptical! Purchasing the starter kit was one of the best decisions I've made.
Fit Scentsy into your life, share the products and you CAN succeed. You can't succeed by wondering 'what if'. Maybe a year down the line you will wish you joined today.
After a year and a half after joining Scentsy as a Scentsy consultant, i was promoted to Director! As a normal person from a normal background this was a massive achievement for me. I have an amazing team and an amazing customer base. Looking back i now realise investing in myself and joining Scentsy as a consultant was one of the best decisions i ever made. If i can do this while working full time it goes to show anyone is capable of making Scentsy work for them. Scentsy fits perfectly into your life around work or children, you can become successful with Scentsy.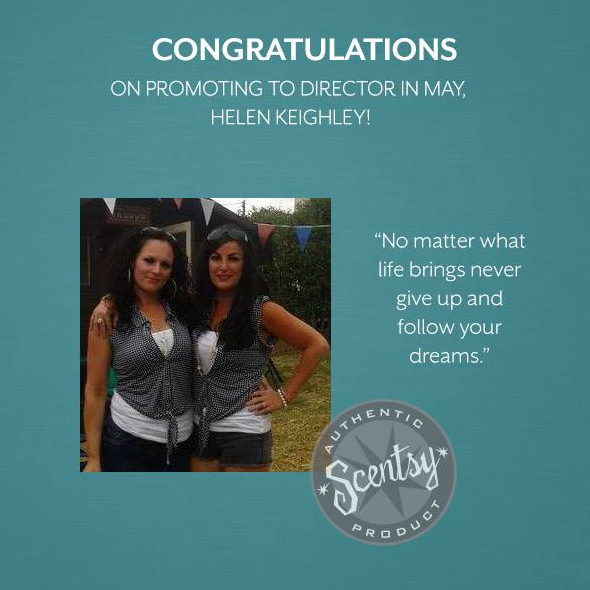 Not only have I achieved more than i thought i ever would with Scentsy and now earning alot more than i ever expected, i am also earning all expenses paid trips to holiday destinations. This amazing company has exceeded all expectations!
You can also achieve with Scentsy all you have to do is take the leap to join and believe in yourself.
If my amazing promotion in May wasnt enough, I promoted to Star Director 6 months on! Me and my group of consultants have had more amazing director promotions within our team! The amount of promotions from escential consultant to certified, to lead, to star, to superstar to director within our team have been AMAZING!!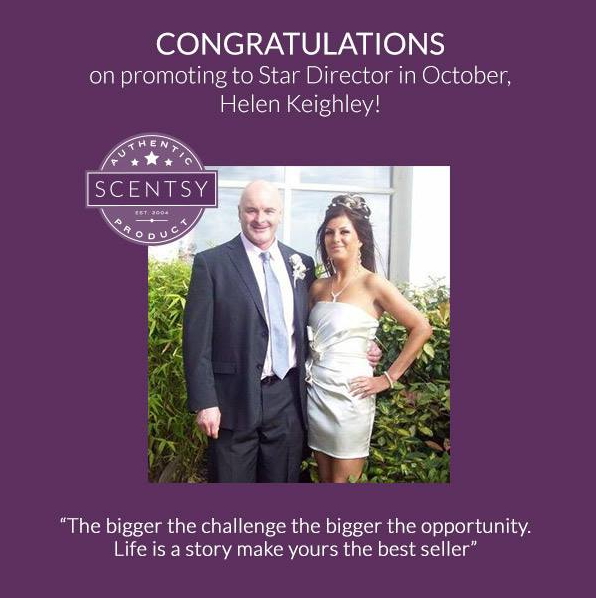 Join me selling Scentsy and become the best you can be! let me help you along the way.
Contact me if you would like discuss anything further or if you know you are ready to give it a go join now!!
If you experience and problems, please get in touch.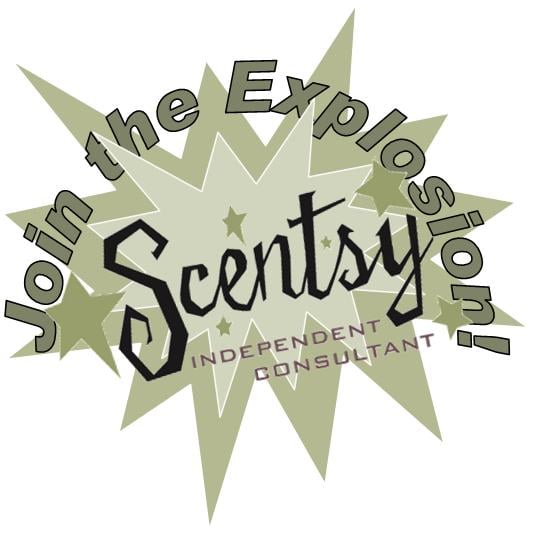 If you would like to discuss anything about my story, about joining as a consultant or discuss anything about the products feel free to contact me. If you would like to read about the commission etc you can read here
I have a facebook group set up on facebook to keep customers up to date on new products or for anyone to contact me to dicuss anything feel free to join me on Facebook..
Heres a glimpse of one of my favourite Scentsy warmers...
The stunning Stargaze Lampshade Scentsy Warmer..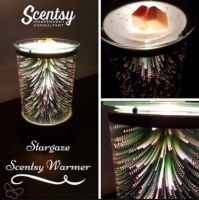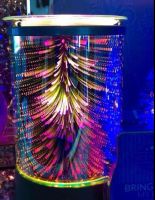 Check out my facebook group or website to find more amazing designs.