Deluxe Scentsy Candle Warmers
DELUXE SCENTSY WICK FREE CANDLE WARMERS
Express yourself with bold colors, rare textures, and trendy patterns. With our Deluxe scentsy candle Warmers, there is something for every space and style.
These distinct scentsy candle warmers have lights for a little glow effect, there something to match any interior.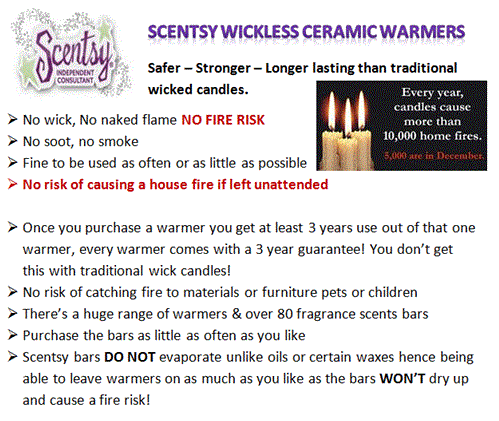 ---
AMETHYST SCENTSY WARMER DELUXE
A playful diamond pattern enlivens a bold purple background in Amethyst.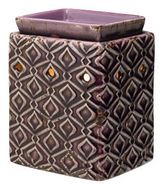 ---
BRUSHSTROKES SCENTSY WARMER DELUXE
A multidimensional work of art, with alternating stripes of rusty red, taupe, and dark green highlighted by metallic brushstrokes.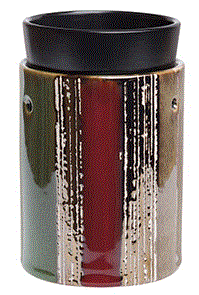 ---
COBBLED LEATHER SCENTSY WARMER DELUXE
A swirling mosaic of burnished red ochre enhances this simple warmer with the look of cobbled leather.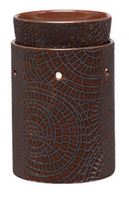 ---
CONTENTA SCENTSY WARMER DELUXE
Soothing, organic tones of cream and tan and a simple shape bring contentment to any space.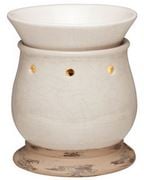 ---
DESERT EARTH SCENTSY WARMER DELUXE
The beauty of the windswept desert captured in unglazed porcelain, illuminated by the aura of daybreak sun.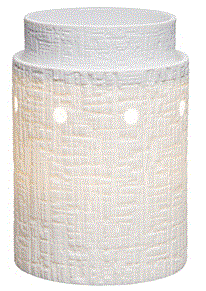 ---
EDGE SCENTSY WARMER DELUXE
A raw-edged burlap texture enwraps a pristine porcelain warmer that glows with ethereal golden light.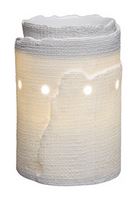 ---
ETCHED CORE SILHOUETTE SCENTSY WARMER (WITHOUT WRAP)
Start — or expand — your Silhouette Collection with this simply patterned warmer. Etches in the porcelain shine through when lit, creating a uniquely textured, glowing warmer.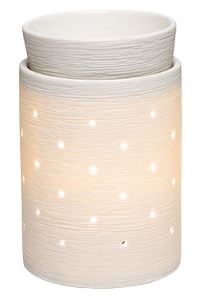 ---
FINCH SCENTSY WARMER DELUXE
A happy little bird perched in an ornate cage stands ready to greet you in Finch.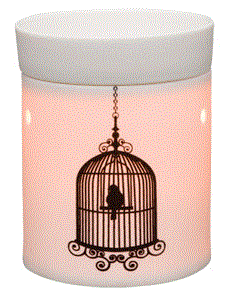 ---
FLARE SCENTSY WARMER DELUXE
A bold burst of colour makes Flare's classic design pop.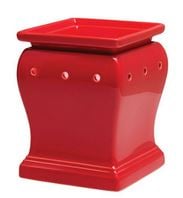 ---
FLOWER VINE SCENTSY WARMER DELUXE
Happy spring flowers and curling tendrils dance in glowing white porcelain.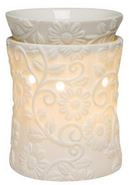 ---
GIRAFFE SCENTSY WARMER
Rich, brown giraffe spots and contrasting white accents create an exotically organic patchwork.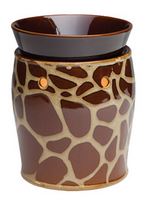 ---
HENNA SCENTSY WARMER DELUXE
Like the traditional body art application of henna, intricate patterns adorn a glazed cream backdrop.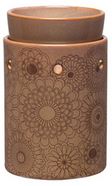 ---
LEOPARD SCENTSY WARMER
Exotic leopard spots prowl across a crackled tan background.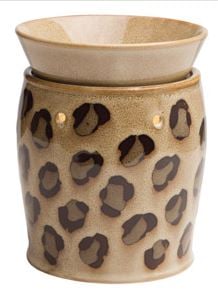 ---
MOROCCAN STENCIL SCENTSY WARMER DELUXE
A crackled ochre glaze is the perfect backdrop for a panel of softly whitewashed gray Moroccan tiles.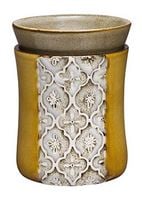 ---
SWIRLING LEAVES SCENTSY WARMER DELUXE
A secret garden of swirling teal and bronze leaves creates a lush, organic accent for any room.
---
TILIA SCENTSY WARMER DELUXE
The simple, modern shape and glowing porcelain of Tilia allows the stark beauty of a tree in winter to shine through.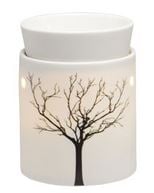 ---
TUNIS SCENTSY WARMER
Hand-painted tiles dance across this warmer in a mosaic print inspired by ancient Middle Eastern architecture, weaving a pattern of sea and shell.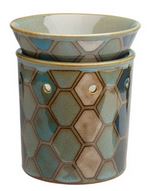 ---
ZEBRA SCENTSY WARMER DELUXE
Zebra adds Serengeti style to any room in your home. When you can't go on an African safari, bring an African safari to you!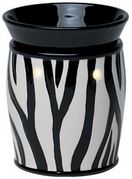 ---