Collectible nutcracker Scentsy
NUTCRACKER SCENTSY WARMER AND ORNAMENT
(Collectible)
The traditional guardian of good luck and goodwill, this limited edition, numbered 2014 Nutcracker is an iconic symbol of Christmas. Sharply dressed in opulent shades of red, black, and gold, a warmer dish is cleverly hidden inside his cap. This spirited sentry is paired with a matching 8 cm Christmas ornament to adorn your tree or holiday decorations for years to come!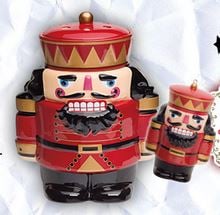 Limited-Edition Nutcracker Warmer Message from Heidi & Orville
''We are very proud of our first numbered, limited-edition warmer and excited
about its matching, collectible Christmas tree ornament. Each Nutcracker
Warmer and matching Christmas tree ornament is a true hand-painted work of
art. This warmer requires a combination of glazing, decaling, and hand painting.
Because of precise detail, extensive handwork, process complexity, and
difficulty in finding a factory that can produce this quality at high quantities,
only 25,000 were produced. Each is individually numbered.''
These are selling out really quick if you would like to purcahse one of the very 1st collectibile unique numbered nutcracker scentsy warmer

There was only £25,000 of these unique warmers produced.
THE COLLECTIBLE NUTCRACKER IS NOW SOLD OUT!
WHEN COLLECTIBLE SCENTSY PRODUCTS ARE PRODUCED THEY HAVE TO BE PURCHASED QUICKLY!
SAVE MY WEBSITE AND KEEP CHECKING BACK FOR THE NEXT COLLECTIBLE TO BE ANNOUNCED!