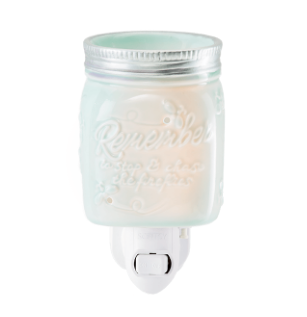 Chasing Fireflies Scentsy Mini Warmer plug in. "Shine your light and illuminate your life, your heart and your dreams. Recapture a childlike sense of wonder and adventure — and always remember to stop and chase the fireflies." —Heidi Thompson, Scentsy Family Reunion 2014
Discover the wonder of childhood with Chasing Fireflies, now available as a Scentsy Mini Warmer. Capture the essence of carefree, playful summer evenings with this pale-blue warmer mimicking a miniature glass canning jar, complete with a silver ring and "filled" with fireflies.
Wattage: 15W
Finish: Glow
Dimensions: 9cm
Melt our wax with the heat of a low-watt light bulb and fill your space with fragrance with no flame, smoke or soot. Featuring high-quality materials handcrafted by artisans around the world.
USE & CARE
1. Plug the warmer in.
2. Add desired amount of Scentsy Bar wax cubes to the warmer dish
3. Turn the warmer on and enjoy!
4. For easy cleanup to switch your fragrance, add some Cotton Clean-ups to your order!
This design is also available with the table top base,