Scentsy | Autumn Scents | 3 pack Hand Soap | Harvest Collection
Posted on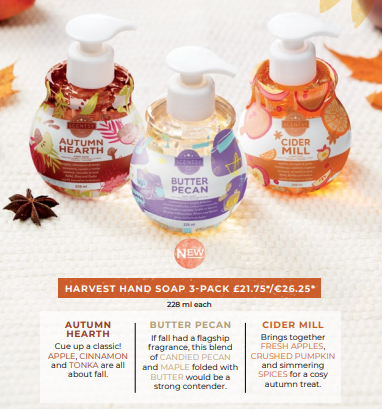 Our Stunning 3 pack hand soaps are offered as a seasonal limited inventory product this Autumn as part of our harvest collection. Our Hand Soap suds up with scrumptious Scentsy fragrance. Each hand soap is 228ml.
HARVEST HAND SOAP 3-PACK £21.75*/€26.25*
AUTUMN HEARTH
Cue up a classic! APPLE, CINNAMON and TONKA are all about fall.
BUTTER PECAN
If fall had a flagship fragrance, this blend of CANDIED PECAN and MAPLE folded with BUTTER would be a strong contender.
CIDER MILL
Brings together FRESH APPLES, CRUSHED PUMPKIN and simmering SPICES for a cosy autumn treat.