Autumn Scentsy Bar Collection | 3 pack | Harvest Collection bars
Posted on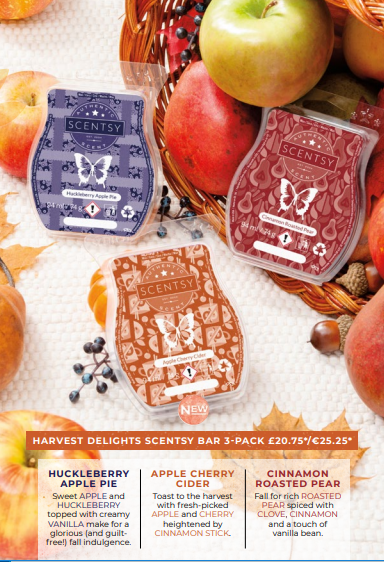 Our Autumn collection offers glorious seasonal fragrances in a 3 bar pack.
HARVEST DELIGHTS SCENTSY BAR 3-PACK £20.75*/€25.25*
HUCKLEBERRY APPLE PIE
Sweet APPLE and HUCKLEBERRY topped with creamy VANILLA make for a glorious (and guiltfree!) fall indulgence
APPLE CHERRY CIDER
Toast to the harvest with fresh-picked APPLE and CHERRY heightened by CINNAMON STICK.
ROASTED PEAR
Fall for rich ROASTED PEAR spiced with CLOVE, CINNAMON and a touch of
vanilla bean.