Sugar Skull Scentsy Warmer with table top base & wall plug in
Posted on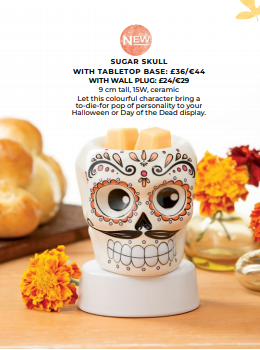 Our annual Autumn Collection is always a customer favourite, and this year's lineup offers all the glorious seasonal décor and fragrances. Discover spooky delights with Scentsy.
SUGAR SKULL
WITH TABLETOP BASE: £36/€44
WITH WALL PLUG: £24/€29
9 cm tall, 15W, ceramic
Let this colourful character bring a to-die-for pop of personality to your Halloween or Day of the Dead display. Only available while limited inventory lasts.