Black Crush Scentsy Warmer £10 off! Was £55 Now £44
Posted on
Purchase our very popular Black crush lampshade Scentsy warmer £10 cheaper than the RRP! Reduced from £55 now down to £44. This Warmer is no longer available to buy in the current brochure and will now only be available while stocks last at this price!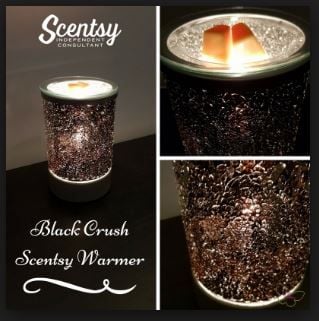 Our stunning black crush Scentsy warmer offers both fragrance and light with our 2 in one lamp and warmer. Black crush is perfect to use as a candle warmer to warm your favourite Scentsy wax bar as well as a lamp too. This type of candle warming system is warmed using a bulb rather than using a built in warming plate. You can enjoy the light with the fragrance, the light without the fragrance or both together.
This black crush lampshade warmer is the perfect edition to any home with stunning greys and blacks in a sparkling crush design to fit right in with today's crushed diamond and crushed furniture trend.