Scentsy Body personal care products are here for a limited time!
Posted on
Scentsy Body Fragrance that feels good – now available in the Summer Collection brochure. Be YOU with Scentsy Body!
Being yourself. It feels good. So does smooth and moisturised skin. Scentsy Body products help you express your individuality through fragrance while nourishing your skin with vitamin-rich formulas. Scentsy Body is fragrance that feels good, and it's now available to YOU and your customers in three fabulous NEW fragrances and four summer favourites!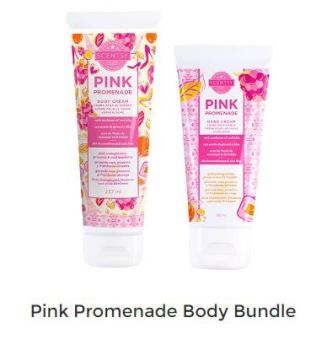 NEW! Beach Daisy: Honeydew melon, wild daisies and green apple make a bouquet of fresh-picked paradise.
NEW! Life Is Swell: More than a feeling! Marine waters, mandarin and driftwood will have the sand tickling your toes.
Luna: White florals — jasmine, sweet pea, and freesia — juicy berries, and sandalwood shimmer like moonlight.
NEW! Pink Promenade: Pretty, with swagger to spare! Pink pomegranate, prosecco and wild raspberry were born to be wild.
Sea Salt & Avocado: You do you, while pink sea salt, Valencia orange and creamy avocado keep your spirit in flight.
Shimmer: Sweet cherries, velvety apricots, and sensual white musk crowned with a tiara of shimmering spun sugar.
Simply Rose: A fragrance for those who love the scent of pure rose.
Beach Daisy, Life Is Swell and Pink Promenade are available in our entire line-up of Scentsy Body products for a limited time only.
Bath Balls. An exhilarating fusion of inspired fragrance, skin-pampering moisturisers, vivid colour and lots of fizz. Formulated with sunflower oil, aloe vera, shea butter and other premium ingredients.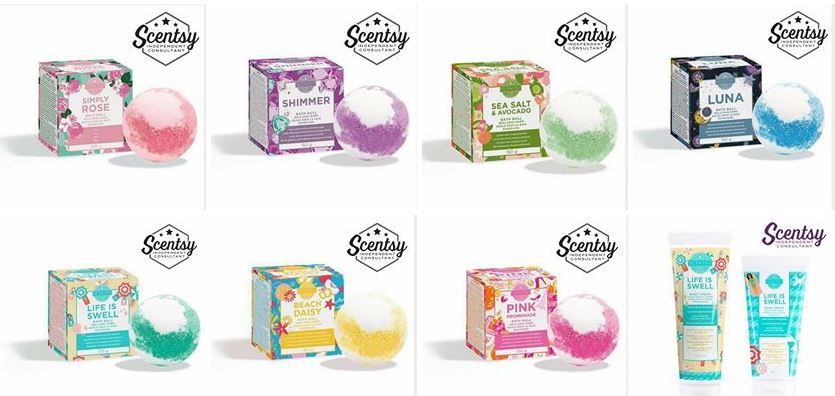 Body Cream. Spread the love (for your skin). A vitamin-infused, mega-moisturising cream that softens and protects for your best skin ever. Perfect for after-shower hydration
Hand Cream. Hand it over! Give your hands a life of luxury with vitamin-packed protection and pampering in a travel-friendly package.
More reasons to feel good!
Sunflower oil & aloe. Many Scentsy Body products contain sunflower oil and/or aloe, both of which can help protect and nourish your skin.
Vitamin rich. Sunflower oil and aloe are rich in essential vitamins including Vitamin E, which can help promote smooth, healthy-looking skin.
Moisture locking. Regular use of vitamin-rich Scentsy Body products can help to lock in moisture, leaving your skin looking fresh and radiant.
Shop the entire Summer Collection which includes Scentsy Body products now available in Europe for the first time ever!
And don't forget, quantities are limited, so share with your family and friends before they're gone!