Sell Scentsy. Start Earning With Scentsy.
Posted on
WHAT DO YOU WANT FOR 2018?
WOULD YOU LOVE TO START YOUR OWN BUSINESS?
WOULD YOU LOVE TO EARN EXTRA MONEY?
WOULD YOU LOVE TO WORK AROUND CHILDREN?
WOULD YOU LOVE TO BE ABLE TO EARN A LONG TERM REGULAR INCOME DOING SOMETHING YOU LOVE?
WOULD YOU LOVE TO WORK WITH THE FLEXIBILITY TO WORK AROUND A CURRENT JOB, LIFESTYLE OR KIDS?
WOULD YOU LOVE THE CHANCE TO BETTER YOURSELF IN 2018 AND DO SOMETHING REWARDING?
I'M OFFERING YOU THE CHANCE TO MAKE 2018 A GOOD ONE FOR YOU AND YOUR FAMILY! GENUINE AND REWARDING OPPORTUNITIES ARE TOO GOOD TO MISS!
BETTER YOURSELF FOR 2018.
BE WHO YOU WANT TO BE AND EARN WHAT YOU WANT TO EARN, YOU CHOOSE WHAT HOURS YOU PUT INTO YOUR BUSINESS AND HOW AND WHEN YOU WISH TO WORK.
DOES THIS OPPORTUNITY SOUND TOO GOOD TO BE TRUE? ASK ME ABOUT MY JOURNEY.
YOU CAN ACHIEVE THIS TOO! THE ONLY WAY YOU CANT… IS IF YOU DON'T TAKE UP THE OPPORTUNITY TO GIVE IT A GO…
WHAT DO YOU HAVE TO LOSE?
IF YOU DECIDE THE OPPORTUNITY ISNT FOR YOU, YOU WALK AWAY WITH AN AMAZING RANGE OF SCENTSY PRODUCTS TO USE FOR YOURSELF. ITS A WIN WIN SITUATION!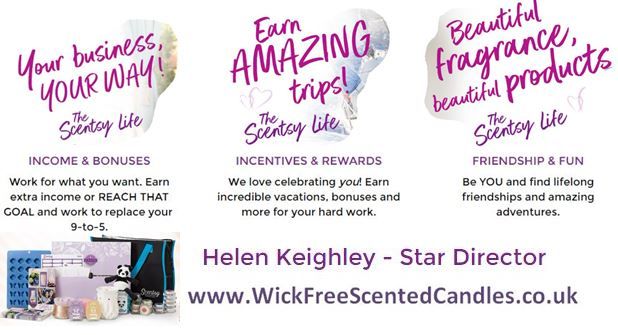 GET STARTED RIGHT AWAY!
JOIN SCENTSY AND STEP INTO A BRIGHTER FUTURE FOR YOU AND YOUR FAMILY!