Metallic Skull Scentsy Candle Warmer - Gothic Candles
Posted on
Express your creativity with our metallic skull Scentsy candle warmer. Doom and gloom never looked so inviting. Metallic Skull is finished in shiny black for a bold look perfect for even the most dedicated Halloween or gothic display.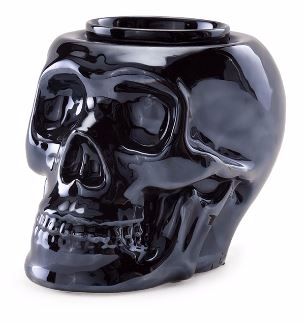 Our wick free candle warmers offer the ultimate scented candle wax experience paired with our highly fragrant Scentsy wax bars.
Our Scentsy Warmers are uniquely designed candle warming systems created to gently warm scented wax from a low watt hotplate fitted inside of the warmer.
Place the top dish of the Scentsy warmer on to the hot plate, place your desired amount of Scentsy bar cubes (Highly fragranced candle wax bars) into the top dish, plug in and enjoy!
A simple and effective candle warming system designed to fragrance your space safely without the need of a wick or flame. Our warmers are designed to be warmed at low temperatures and are safe around children and pets with no fire risk from a naked flame.
View the great range of Scentsy candle warmers and Scentsy bars in my Scentsy shop.